I often hear from moms that little kids fall asleep badly. My son had different dreams, so I want to tell the story of my son.
Making the baby sleep is impossible. Turn it off too will not work. Therefore, it is more correct to create conditions for the child to go to bed. These conditions should be pleasant.
Leave the baby cry?
I have repeatedly heard that if a child is naughty and crying, then you need to let it scream, and then it will fall asleep. A couple of times I tried this method when my son was smaller and did not want to fall asleep. I can say that I am against.
The child needs to know that he is protected, that all is well. Imagine his mother left him in the crib and left? Fearfully? Highly. He cries, breaks, and mother does not come. Very scary. Yes, he gets tired and can fall asleep from fatigue. In addition, I think that this method will not help a child to perceive a dream as something pleasant and safe. I am not a supporter of this method, I feel bad when a child cries.
Where to sleep baby?
I very rarely rocked the baby in my arms. Only when something strongly disturbed him, for example, teeth were cut. Most often, the son fell asleep just beside me on the couch.
By the way, this raises the question of where the baby should sleep. Someone thinks that he should sleep in a separate bed and in his room. Someone puts the baby to sleep next to him.
Until the year my son slept in the crib, but sometimes, for example, when I was sick, I took him to me. When I went to work, the child moved to sleep with me. In part, this was due to the fact that I was ashamed in front of him: I left him for the whole day. My son and I are two, so the fact that he sleeps with me doesn't bother us. I am so even calmer, harbor him at night, if he unraveled.
But sometimes, when he falls asleep, I take him to bed. And he, too, sleeps well until the morning. True, he wakes up an hour earlier, because in the morning he presses against me, and in the crib there is no one to cuddle.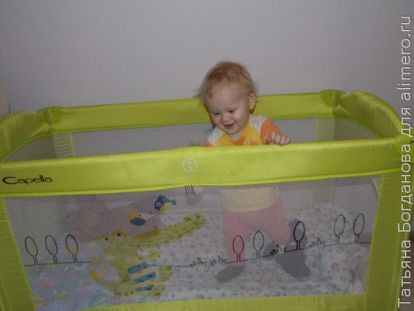 How do I put the baby to sleep?
one. The child must be tired. On weekdays, he goes to kindergarten, where he is active. In the evening I take him, we walk, and then we play at home. Then the son gets tired enough to go to bed.
By the way, if he goes to bed late during the weekend, then I try to wake him up, because otherwise he will go to bed late.
2 We comply with the regime. I try to put the baby to bed at the same time. Sometimes it fails to do, but most often after 22:00 we go to sleep.
3 We follow a certain bedtime ritual. First I say it's time to sleep, we go to the room, change clothes. I tell where things need to be put, and sometimes I charge him. After that we go to bed, cover with a blanket. Sometimes I tell him bedtime stories, sometimes we watch one or two little cartoons. I always kiss him before bed and say how much I love him.
Of course, he does not fall asleep at the same second. But he knows it's time to sleep. And falls asleep quickly enough.
four. We sleep at bedtime, but not every day. I pour enough water into the bath so that he can boil well, spend energy. I make the water warm. He can swim for a long time.
After bathing I dress him immediately in my pajamas. Then we can eat cottage cheese or yogurt. And sleep!
That seems to be all. Happy son sleeps too. In kindergarten, he falls asleep quickly, it's harder to put him at home on the weekends, because he plays, there are no other children who also go to bed. Often he lies on the pillow, covered with a blanket. If no occupation distracts him, he quickly falls asleep.
How do you put your children to bed?