My youngest daughter is only 3 months old. We recently visited a pediatrician. The elderly doctor asked whether the baby was already smiling, whether she was holding her head and whether she was trying to roll over on her side. She tries, but what about 🙂 For the first time, a little fidget turned over on her tummy in a month and a half, and since then she has been diligently refining her skill.
Now she turns very cleverly. Rolling over on her stomach, she struggles to crawl. Moving the arms and legs, she quickly moves on the sofa. The most interesting thing is that she manages to do it even tightly swaddled 🙂
Recently, the baby was sleeping on the couch in the bedroom, and I was working in another room. And then I heard a knock and shrill crying. Did not follow. My daughter woke up, crawled to the other side of the sofa (which is about 1.5 meters!) And fell to the floor.
The baby calmed down quickly and in a couple of minutes she smiled, as if nothing had happened. But I could not come to myself for a long time, blaming myself for what had happened.
The time has passed when I could calmly leave Dana on the couch in full confidence that nothing would happen.
After what happened, as you understand, I do not leave my daughter on the couch. In her bed to play, judging by the mournful whine, there is also little joy.
The developing mat that I always laid on the sofa had to be moved to the floor. True, several times I caught the fugitive far outside the rug, but still it is better than falling from a height.
With all the desire, I can not stay next to my daughter all the time. I need to do household chores, work, pay attention to the older child. Therefore, we can't do without the playpen.
I know that there are opponents of this device. But for me he was a lifesaver with the eldest daughter, so I intend to buy the playpen and the youngest. Many people believe that the child is sad and lonely there, but this is not at all the case. Especially since my daughter will not be in it for long, but only when I cannot look after her.
Sleep on an adult bed
Since birth, the baby sleeps with me. So comfortable for all of us. My daughter wakes up much less often than in a crib. Consequently, I rather get enough sleep, my husband and eldest daughter.
Dana sleeps until 9 am, I often wake up at 6-7 and go to work in another room. Carry the baby in the bed really do not want. She has a sensitive dream and will have to reload the child. In addition, she was not accustomed to the bed.
We have large and heavy cushions with plywood frame. They are the ones who help me out at this stage. Putting these pillows across the couch, I received a solid fence. Until the baby gets on her legs, I am sure that she will not fall. But after a few months, this method will also become dangerous, because the daughter will be able to lean over the pillows or the railings of the sofa.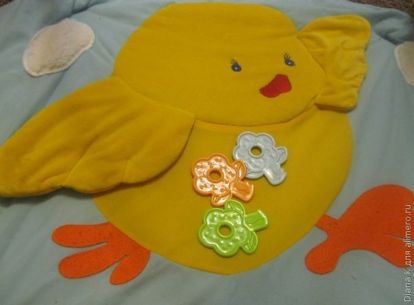 I see one way out of this situation – to accustom the baby to the bed, at least for the daytime sleep.
I will hope that these methods will help me to protect my daughter from falls. Although I understand that they are inevitable, no matter how hard I try.
What methods did you use to protect your babies from falling?