I have always believed that the child must necessarily instill a love of reading. She began to buy children's books before the birth of her eldest daughter. The only question is how to do it more correctly? Especially now, when the computer, TV and other, we need such gadgets seriously pushed the book in a series of children's entertainment.


Why should a child read?


Despite the life that has changed a lot in terms of technical progress, it is still necessary to read. It develops imagination and literacy, makes you think, imagine what the characters look like and the area where the action takes place, what will happen next.
A child with advanced reading skills will be easier to learn the school curriculum (I know this from my eldest daughter) and he will not be intimidated by his illiterate texts in the future. But it is – a little later. To start the child need to interest the book.
When to start?


It is hardly worth flipping the book in front of the nose of a month old baby. But it is necessary to read simple poems, rashes, sing songs and lullabies. I printed out several sheets for myself, hung them up in different places and, walking with my son around the apartment, we read.
In the kitchen we have a colorful cutting board with a plot from Ryaba Chicken. This tale is the very first thing that the son heard and, one might say, learned. Reading it, we beat together a grandfather and a woman's testicle (tuk-tuk-tuk), calmed the grandfather and the woman (stroked on the head), portrayed how the mouse waved its tail, etc. Now we tell her together.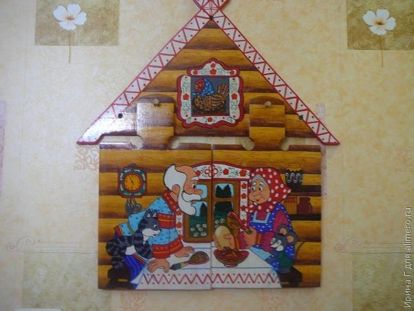 Then, when the son grew up and began to sit, he heard the same poems and fairy tales from a book.
At first, he was interested in books only as new items: he folded them in my hands and tried to drag them into his mouth. It upset me a little, but I still read to him. The main thing is not to overdo it and read just a little.
I also use time for reading when I shake my son on a swing: and it is more interesting, and he does not try to take away a book.
And now we have taken the bun: we watched a cartoon, played puppet theater. My son is very good when I ask him: How did the fox eat the bun? True, when we were reading a book, we were in for a surprise: the bun in this modern, for the smallest, described fairy tale, took it and left the fox!
Secrets of teaching to read


Actually, there is nothing secret here, but many overlook the fact that a child is interested in what is interesting to adults. Therefore, we ourselves need to read and use books. In our family there is still such a piece of furniture as a bookcase, where children's books are on the lowest shelf.
And we go to the library. Such leisure is not limited only to reading: the child learns to communicate, make choices, he is brought up with a sense of responsibility, since the book must be handed over on time and not spoiled. In the library you can get to an interesting event, and, most likely, for free. In addition, it can be combined with a walk.
I believe that for a book there must be a time in life and a place in the house. Then the child will reach for it.
If you have your own reading secrets – share!