You know, for the first time, I took Sabrinka with trembling hands. She was so small, fragile. I was terribly afraid to do something like that. She was afraid to hurt her, to drop.
Of course, I was preparing for the birth and birth of my daughter. Well, how to prepare. She asked for advice from her mother, read articles and topics on the Internet. I even enrolled in a school for pregnant women, which I did not go to later. Lazy.
I tried to find out to the maximum how to properly care for my baby, how to feed and hold her in my arms.
Correctly take on the pens

A newborn baby is constantly lying on the back. To take it, you need to put one palm under the back of the head crumbs, and the second – under the ass. Then, the baby can be lifted gently, making sure that the head is always above the ass. The head should always be supported because the neck muscles are still very weak and cannot do it themselves.
How to keep a newborn in your arms

The most important thing is to keep the baby very gently and carefully. It is important to remember that his spine and joints are very weak and our not accurate, sudden movements can cause irreparable harm to them. Below, I have highlighted a few main points about which mothers, fathers, grandmothers and grandfathers should be constantly remembered, in general, to everyone who takes the baby on their hands.
1. I think everyone knows the most important rule – we support the head for the baby, since he still cannot do it himself.
2. Handles and legs should not hang down, they also need to be supported.
3. If you decide to hold your treasure vertically, be sure to provide support for the baby's spine.
4. In no case should not raise the baby by the hands or feet, again due to weak joints. This can be done no earlier than 3 months of age.
5. The child must always shift. Cannot be worn only on the right or on the left.
6. When your treasure is in your arms, keep smiling, talking to him.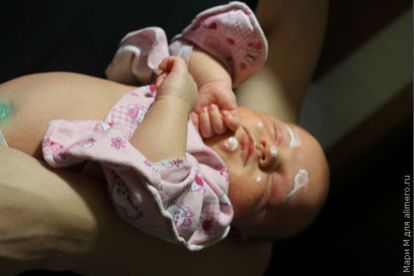 Most of the time I wore my daughter in the usual classical way – a cradle. I put Sabrina on my arm so that its head was in the area of ​​my elbow joint. With the same hand, I pressed her to my chest, so that her face was turned to me. And with the second hand she was holding her back. By the way, in the same position I often fed her until she became too heavy.
Have you been afraid to take your crumbs in your arms for the first time? Who taught you how to do it right?