Our daughter is only one year old, but I already want to go crazy on vacation. We plan it for the winter, but I have already thought about the preparation of the necessary documents. First of all, I decided to make my daughter's international passport.
Old or new?

Now a passport is made of two types: the old model and the new one. The old one is 5 years old and costs 300 rubles, and the new one is 10 years old, but you will also have to pay 1,200 rubles for it. Which one to choose? All parents face this choice.
I figured it out, imagine, we will go on vacation with my daughter when she is about 9 years old, and in the passport there is a photo when she was just a year old. It is somehow strange, and suddenly, it will change a lot, and we will not be released at all?
Therefore, I decided to make an old-style document. For this, I had to collect the following documents:
1. I filled out a special form for obtaining a biometric passport. It is certified by the signature of one of the parents. You can do it right on the spot.
2. Photos of the daughter in the oval. Photo paper must be matte. In photo printing it is just enough to say that you make a photo for a passport, they know exactly what to do.
3. The birth certificate of the daughter and his copy, where I had to put a stamp on her citizenship in the migration service.
4. My passport and my husband's passport, with copies of all completed pages.
5. Well and, actually, the receipt on payment of the state duty. I paid for it in Sberbank.
Then, you need to come at the reception to the migration service, take a turn and hand over the documents.
But everything can be done even easier. Without queues, expectations and extra nerves. Through the portal of electronic public services. To do this, you need to register. After that, they sent me a letter with a personal password through the mail. It went about a week.
Next, by entering this password, I got access to the system. Through it you can draw almost any documents. In the same place I filled in the questionnaire in electronic form. Added a photo of a daughter, which she made herself, at home, against the background of a white refrigerator.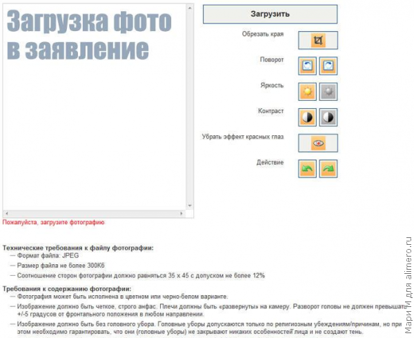 After I filled out all the necessary forms, I was assigned the exact day and time (about a month) when I needed to go, provide the documents and after half an hour, take my beauty's passport without any queues.
By the way, if you have an old-style passport, then the child in general can be simply entered into it, providing the same documents to the service and not paying any duty at all.
Have you encountered any difficulties in obtaining a passport for your child?