Probably, it makes no sense to talk about the benefits of breastfeeding. This is what all pediatricians say. On any baby food stated that it can not replace mommy's milk.
Since the very birth of my baby, I was tuned specifically to breastfeeding. I constantly fought for milk, decanted day and night, regularly drank special pills, did warm compresses.
But milk was not enough all the time! And if in the first months of our life we ​​more or less had enough of it, then by 6 months we had stopped filling ourselves. And then the question arose about the transition to mixed feeding.
You can not just buy a jar with the mixture, which will be suitable for the age of your baby, and immediately begin to feed her. Introduction of any new product to a child is a process in which it is impossible to rush. And the mixture is no exception!
I have one friend who, due to her medical condition, had to start feeding her baby in the very first month of her son. And she did it wrong!
Almost every day she tried to give him a new mixture. As a result, the child was restless, his stomach was tormented, and an allergic reaction began. And it was impossible to understand what kind of mixture the baby responded to, since his mom had gone too far with her experiments. And it took a long time to nevertheless find out which mixture categorically does not suit the child.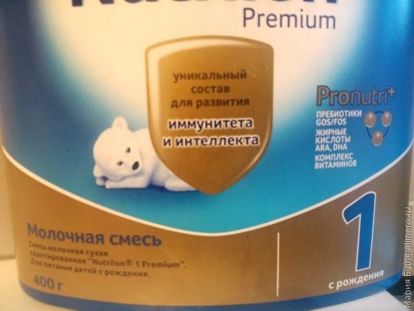 Given such a sad experience of my friend, I decided to responsibly approach the issue of entering the mixture. And we must begin with a mandatory consultation with a doctor!
I received a detailed consultation from our pediatrician. And the most important principle that I have learned for myself for life, is gradual! No need to rush, otherwise you can only harm the baby.
So, I bought a jar of the mixture. Of course, the question of choice is a separate story. I will not dwell on this now.
On the first day, I gave my daughter a very small amount of new food – about 30 milliliters. The next day, I doubled the dose, and then by the same amount. I closely watched the reaction of the baby for three days – during this period an allergic reaction can occur. In addition, I monitored the general condition of my daughter – whether the tummy bothers you, what kind of chair, does she regurgitate.
Fortunately, we reacted quite well to the new product – the child's behavior did not change, there were no lesions, and we went to the toilet in all regulations. We are absolutely in no hurry to manage a new product! Therefore, I had every chance to track the reaction of the baby.
How to keep breastfeeding!
Mixed feeding means that mommy continues to breastfeed her baby. And, in spite of the fact that we had difficulties with this, I did not plan to curtail breastfeeding.
The doctor gave me a few basic recommendations, which helped us keep the milk. I share with you:
1. After the mixture, always offer the baby a breast. However, make sure that your baby does not eat!
2. Embark! This will help keep the amount of milk produced.
3. Change the nipple in the bottle so that the baby does not get used to one type and still makes efforts when feeding. After all, to eat baby Mommy's milk from the breast, he needs to work hard!
I must say that these simple recommendations helped to breastfeed the daughter up to 1.3 years! I think this is very good!
Mom, share, and how did you go on mixed feeding? Did you have any problems with the introduction of a new product? And did you manage to keep breastfeeding?