Buying for the newborn all sorts of things, do not forget about the bed. Of course, each family decides on its own whether it is worth buying it at all. After all, often moms prefer to sleep together. However, even if you decide to sleep together, the bed can be useful: the baby can just play there when you need to do household chores.
So, when buying a cot should pay attention to:
1. The distance between the bars of the side. It should be small, so that the baby could not stick his head between them. To ensure maximum safety, you can cover the sides with soft casing (security), which is often sold with a set of baby bedding. The security guard will also save the baby from injury: when he grows up, he begins to get up in the crib and fall, it is better to hit the soft fabric than the tree.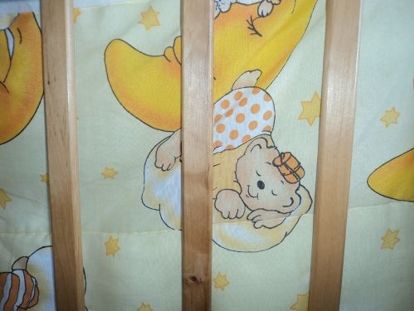 2. The possibility of regulating the height of the bottom. This is a prerequisite for safety. So, if the height is not regulated, then over time the baby can step over the side and fall. Therefore, it is necessary, focusing on the growth of the baby, periodically lower the bottom.
3. Removable side wall. The bed, as a rule, is designed for children up to 3 years. At this age, children can already go to bed or get up in the morning on their own. Therefore, it will be very convenient if the edge can be removed.
4. Material of which the bed is made. Best of all, if it is natural wood, which is an environmentally friendly raw material. The bed is often coated with varnish or paint. To ensure the quality of these coatings, you should ask the seller for a certificate of quality and compliance.
For babies from birth to 6 months, you can recommend to buy a cot-cradle. It is rather small, which makes the baby feel comfortable and cozy. Yes, and mom convenient to rock the baby in it. However, this acquisition may become unnecessary if you choose to share a dream.