The newborn sleeps most of the day. With age, the number of hours spent sleeping decreases, but still remains fairly significant. That is why it is so important to choose the right mattress for the crib.
Common selection criteria
When choosing, you should focus on size matching mattress crib sizes. The standard width is 60 cm (70 cm) and the length is 120 cm (140 cm).
Degree of rigidity. As a rule, one should adhere to the principle: the smaller the baby, the harder the mattress should be. Although for many mummies it seems a mockery. I also wanted the baby to bask on the featherbed.
However, children with their spine not yet formed need to sleep on a hard surface. Then in the future there will be no problems in the form of, for example, scoliosis.
The mattress should contain safe filler. Best of all, if it is also natural. For example, mattresses with coconut fiber, buckwheat husks, and seaweed are in great demand. They are well ventilated, do not cause allergic reactions and have sufficient rigidity.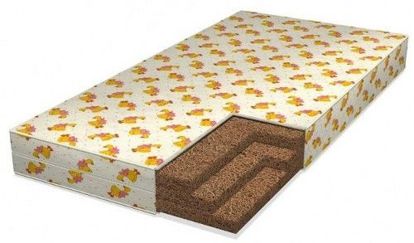 From synthetic materials can be distinguished polyurethane foam, waterlatex, foam rubber. The first 2 are more preferable because they have the necessary rigidity, but the foam is too soft.
Personal criteria
In addition to the generally accepted criteria, there are personal. For example, I bought for my daughter double sided mattress. One side is coconut fiber, and the other side is buckwheat husk.
While the baby is a little better to sleep on the coconut. He is as hard as possible. Then the mattress can be turned on the buckwheat side – it has a little less rigidity. In addition, thanks to buckwheat, the skin of the child receives a kind of massage.
Sometimes parents buy for their little ones aboutrotopedic mattresses. A feature of these products is their ability to individually adjust to the back of each child.
There are also inflatable mattresses for cots. Most often they are made of waterproof material – vinyl. Therefore, they can be used not only at home, but also when traveling to a country house, during a hike.