My daughter this year is 3 years old. This is her first, conscious New Year. I prepared her gifts, I think over the holiday program. But I know that for some mothers it is very difficult to organize celebrations with children. Although … it is not at all difficult.
New Year's Eve, the whole family at the table, and, of course, kids also want to celebrate this holiday with everyone. After all, everyone feels that this is a magical night. How to celebrate the New Year with the baby so that he feels all the joy of the holiday?
Children from 0 to 3 years
For very young children (up to three years) this celebration is not yet clear and the child is not yet able to realize it, but you can decorate the Christmas tree and decorate the apartment with the baby.
I took my daughter, brought it to the Christmas tree. We laid out artificial snow, rain, included garlands. They fascinated her so much that she even fell asleep in her arms.
Moms! Show toys that you dress up, talk about them, so you develop the child, as well as instill new year traditions.
But acquaintance with Santa Claus and other fabulous New Year characters is better to be postponed to an older age, as the baby may be frightened by a stranger, also in such an unusual form.
If you decide to invite guests to yourself, then take care not to knock down the baby mode. Put the child in his usual time, and celebrate. Try not to make much noise, so as not to frighten the baby.
We covered the child in a separate room so that the noise of the TV and the cries of the guests would not wake her. She perfectly snuffled, and we celebrated the holiday with pleasure.
Children from 3 to 5 years

Older children are already waiting for this holiday, gifts and Santa Claus. Now your baby is ready to meet with fairy-tale characters.
My daughter just entered this beautiful period of awareness and understanding of what is happening. By the New Year I had to prepare it!
Before the meeting, we read books, watched cartoons and fairy tales, in which there are New Year characters, so that the little one could understand who she would soon meet.
Decorating Christmas balls, drawing postcards for relatives and learning New Year's poems and songs will be a good developmental activity with a child.
And yet the daughter is still small to wait for the chiming clock, so I think you need to sit at the table early so that she takes part in the celebration and quietly went to bed.
Now let's talk about the children of five – seven years. So far this period is a bit far from us, but I understand that the children themselves can already take the initiative in decorating the apartment and the Christmas tree.
I think it is necessary to ask your little son or daughter to decorate New Year's dishes. Trust them with some task (for example, spreading vegetables on a plate).
Thus, you teach the child to help you and at the same time do not allow him to become sad in anticipation of the celebration. Now your child can expect with you the coming of the New Year.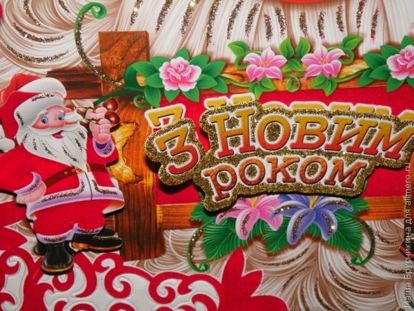 Be sure to bring the child to the holiday tree or call Santa Claus home. The kid will gladly tell a rhyme or dance to get a long-awaited gift.
Try to do everything so that your child believes in a miracle and always feels the New Year's atmosphere of magic!
How do you celebrate the New Year with your baby?