Mom with horror discovers that the baby has a hot forehead. Begin the search for a thermometer and antipyretic syrups. Do you know this situation?
I thought more than once: where to start the fight against the disease and how to alleviate the suffering of the baby. The first thing I do is measure the temperature. If it is higher than 38.5, I begin to shoot down.
The safest temperature syrups are made on the basis of paracetamol or ibuprofen. It is necessary to strictly adhere to the instructions when choosing a dose. Overdose can damage the baby's liver.
My daughter is tall and a little big for her age. The amount of the drug indicated on the package did not help us. When she was three years and eight months old, the doctor already prescribed us a dose of nurofen for children of four years. Now I always consult with a specialist, and not just read the instructions.
I give any medication with a break of 2 hours. If mixed – the consequences can be unpredictable. Especially careful to be with antipyretic. This applies to all forms of drugs: syrups, tablets and candles.
Auxiliary procedures
Syrup begins to act after 20-30 minutes. We have had cases that the result appeared in an hour. To bring the temperature down earlier, I start a rubdown. When the daughter was small, she really did not like this procedure. She screamed so that the temperature rose even higher. Then I poured water at room temperature into the basin and lowered the toys there. Baby caught fish and bathed dolls, and I washed her.
When Helen grew up, it became easier to wipe. On my forehead, I put one wet napkin, another wipe. I pay special attention to the places where vessels pass close. These are the fossa under the knees, groin folds, neck and tummy. I used to wipe my daughter with diluted vodka or vinegar, but I learned that it could cause poisoning. Now I use ordinary water 30-35 degrees.
The room should be 18-20 degrees. At this temperature, I only wear the baby tights and blouse so that the clothes do not interfere with giving out heat. I ventilate the room, but I do not keep Lena in the draft.
Be sure to follow the purity of the spout. I drip and moisten with saline. You can moisten the air in the room. When it is easy to breathe, the body gives off heat with exhaled air.
Need to drink a lot, but in small portions. Previously, I had to pour water from a dispenser for Nurofen into my daughter (it looks like a syringe). I repeated this procedure every 5-10 minutes. Doctors advised us that you need so much water that your child writes every one and a half to two hours.
Now the daughter is drinking herself. It is possible a little, even for a sip, but often. We drink everything we love. You can diluted juices, water, tea. Especially useful raspberry compote. I read that nothing knocks the temperature better than raspberries.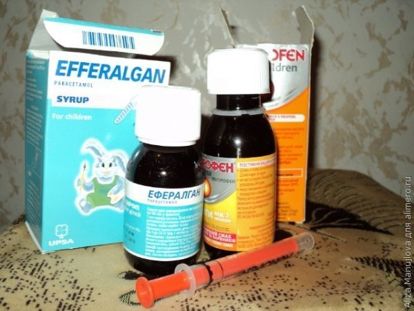 I do not feed by force. I cook only liquid food: milk porridge, cream soup. If there is an order for something else, I certainly do. With sugar I do not zealous, during the illness it is harmful.
I do not force my daughter to lie in bed if she wants to get up. But the games should be calm, the temperature can rise from running around.
I hope that my advice will help you cope with fever. However, remember: you should urgently call a doctor if the temperature has exceeded 39.5 degrees, or if the general condition of the baby deteriorates.
I wish you and your children good health.