Every day, I often remember the saying "Little kids" – little troubles. Toys … A question that is on the agenda every day.
A daughter was born … Lord, almost 6 years ago. The very first toy – suspension on the arena or stroller. A little later rattles. I will never forget the serious look of my daughter, who said Mom, and what is this?!. Then numerous rattles.
I chose emotions, but stopped the mind. Honestly, I would buy everything! But neither this nor the child would benefit from it. Clever was – read. The smallest need toys with large monochrome details, saturated with natural colors. At the same time, we keep in mind that the paints must be of high quality, plastic … certificates must be …
I felt myself right up to seven spans in my forehead … I thought it was difficult … Naive!
Play around or eat?
My child has grown up, her teeth began to be cut – I learned about teethers. All the time I was tormented by the question whether my daughter would catch a cold, holding a toy that had been in the freezer. Manyunya answered herself – played, nibbled and threw out. Business-like she put a sweet rusk in her mouth and with her whole appearance said that I could nibble a teether myself.
Then we went educational toys. God, the choice is such that it seems that there is not enough time to reconsider everything and the money to buy everything. But my daughter and I went the easier way – we checked that she would be interested. I gave her buttons, zippers, cords and various shreds (velvet, silk, fur). She chose the buttons and cloths. So the toys went to choose for fine motor skills – with different to the touch surfaces and emit different sounds.
Books by itself. The first book lived long. The one that rustles and beeps. Long, about three years, until a son was born. He was so curious about what was rustling there, that he had sorted it out page by page, or rather, half a page.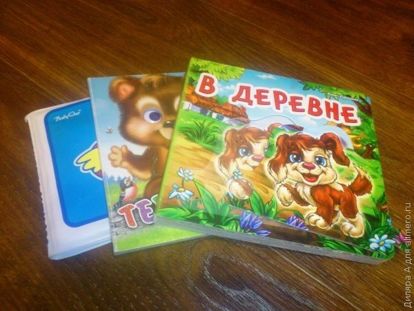 The same thing happened with paper books. Although they are made cardboard, the child can still – broke, and disassembled the talking books – he could – he picked it up, but he could not – he broke it. But both of them were interested to listen to it.
Misha doll, Masha doll … just the kids got older
Now a new problem: I buy a doll for my daughter – my son urgently needs it, I buy him a typewriter – my daughter needs this machine. Once bought a pair of dolls in the tub. Pups were divided, for a bath – they had a fight.
We bought paints, markers, pencils and plasticine. Paints on the walls, clay in carpets, pencils gnawing. In my head instantly – is it dangerous or not?
These are the toys here. The problem that buy smoothly transformed into how to divide. And how easy it was at first – pendants, rattles …