When I told the medical staff of the maternity hospital that I intend to breastfeed my babies, many of them twisted their fingers at their heads and claimed that it was a whim, a whim.
They were sure that I would decide to transfer the children to the mixture after the first day of such feeding. Today I want to tell you how my struggle for breastfeeding went in the first month of my babies' life.
My girls were born strong enough. Esenka weighed 3100, and Agnesha 2990 g. I didn't have time to recover after giving birth when a nurse came into the ward. In her hands she had two jars with the mixture. The nurse gave recommendations for the care of babies, told how to feed the mixture, and left.
Only a couple of hours later I realized that I hadn't received any recommendations on the most important thing. Apparently, the staff of this institution did not care much about breastfeeding babies.
As my friend told me later, doctors don't need weight loss (which often happens after giving birth), tummy problems or a rash due to improper diet mom. Their goal is to get home as soon as possible. And then sort it out, as you know.
Before birth, I studied a lot of information about lactation, so I tried as much as possible to put the baby to the breast. Not surprisingly, at the time of discharge, the breasts were cracked and very sore.
Throw the idea of ​​breastfeeding persuaded me and mom. Apparently, she did not see any benefit in this process, because she had breastfed me for only 4 months.
Feed simultaneously or take turns?
In the hospital, I fed the girls one by one. Fortunately, one of my relatives was constantly with me in the ward. Mom, husband or mother-in-law came to the rescue.
If the babies shouted synchronously (and most often it was), they had to keep one daughter at her breast, and feed the other at this time with a mixture from a syringe. Still, the first days after birth, when the milk was just beginning to appear, two of the children it was clearly not enough.
Then the kids changed roles. One after the mixture ate my milk, and the other ate the second for the second. At home, I decided to try feeding the kids at the same time, because feeding alternately took too much time. Besides, I decided to abandon the mixture. It often happened that while feeding one daughter, the second roared in a hurt tone.
I began to adapt. I sat down on the bed, put blankets rolled up on two sides from me (many blankets), had daughters on top of them, leaned forward slightly and fed them in that position. It was more convenient, but preparing for such feeding took a lot of time. In addition, the back was very painful from tilting forward.
After some time on the Internet, I saw a special pillow for feeding the twins. She was a horseshoe that a mother should wear on her waist.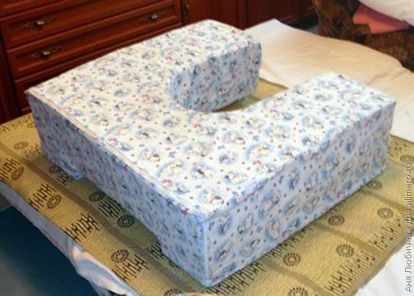 There was a thought to sew such a one on my own, but I stopped that moment, that it must be very elastic and high so that the little ones reach the breast. For this you need a special filler (something like foam). In addition, the size of the pillow is rather big. This means that there should be a lot of filler.
Despite the high cost, I still bought a pillow. She became my salvation. Now I comfortably fed two babies at once.
When the children became calmer and each developed its own schedule of sleep and wakefulness, I began to feed them separately.
Many believe that it is not realistic to breastfeed the twins for a long time. I want to dispel this myth: I fed my daughters to one and a half years.
And in your environment there are moms who breastfed two babies at the same time? Tell us about them!