My oldest daughter Dasha is almost seven and a half years old – she is an adult and independent girl, she is studying in the second grade … I'm writing this, and I don't even believe it myself – it would seem, quite recently, being in an interesting position, I greedily and voraciously absorbed a variety of information about the behavior of the future mum in labor, about the secrets of successful breastfeeding, about caring for the baby …
There are incredibly many memories of this wonderful period … And today I wanted to tell our milk story to our daughter.
Unfortunately, it did not start as the book says – not in the delivery room … Baby, though born in time, but with very low weight (only 2400 g) and incredibly weak … That's why all my desperate attempts to beat the little daughter with priceless colostrum in the first the hours of her life were unsuccessful – Dasha simply didn't have enough strength to suck on her own breast, and in the first days there wasn't much milk …
In connection with all this, the medical staff immediately insisted on the mixture. And expressed colostrum, and the mixture after it, I gave my daughter with a syringe. Rather, she tried to give – the baby did not know how to swallow, and the contents simply flowed out of a small mouth.
We were not discharged from the maternity hospital home, but were taken by ambulance to a children's hospital (the department of premature and underweight children). And it started – decanting, feeding, control weighing, decanting, feeding, control weighing … And so – all day and night.
In the hospital it was possible to feed from a bottle, and milk already, good, was enough – we did without a mixture! Before each feeding from the bottle, I put my baby to my chest in the hope that she could already suck on her own.
Breast pump to help.
Someone came up with a breast pump – an expensive pleasure! Time saves – I don't argue, after all, it was thanks to him that I had a little time to relax between expressions! But from the regular use of this device, I had cracks … And no bepanten did not help.
I remember that my desire to breastfeed my daughter was so strong that I did not give up, and … On the seventh day of my life, my daughter gained enough strength to independently produce milk from her mother's breast … I cried with happiness.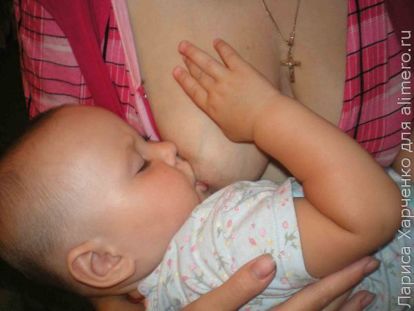 On a hospital ward, I immediately boasted to the attending physician with our successes and by evening we were discharged home, where anxious dad was waiting for us impatiently.
We quickly started breastfeeding – we had no more problems. And for the first month, the baby gained her double standard – she weighed even a little more than 4 kg!
Breastfeeding, we successfully continued to almost one and a half years. But I will tell about it in my next topic.