As I wrote in the previous topics, I spent part of the summer with my daughters at my grandmothers and grandfathers in the village. There and fresh air, and a lot of animals, and, as it turned out, a lot of entertainment. And I was in vain afraid that Elina would be bored there in her 1 year and 4 months.
My daughter is an early bird. Wakes up at 7 o'clock in the morning, still lie hugging her for about 20 minutes and Hello, new day !. We get up and go to breakfast. And at the same time to wake up the grandmother with the grandfather. With this occupation docha handles just fine. Under her merry screams, all households, including the cat, wake up.
After breakfast, everyone has their own business. Grandpa and Elinka go to watch the chickens. This is their traditional morning procedure. While my grandmother and I clean the table and fill the beds, they feed the chickens, catch them to stroke, or simply chase chickens. Fun for grandfather and great-granddaughter.
We have no time to miss. After talking with the hens, you can go feed the rabbits or wander around the grandmother's garden. As it turned out, my daughter loves flowers very much, so every day we collected a bouquet in my grandmother's garden and proudly carried it home. Well, of course, sometimes in a slightly worn form from the constant sniffing.
Walked, and then it's time to sleep already. After bedtime, it's lunch time. Without Elinka, no one sat down to eat.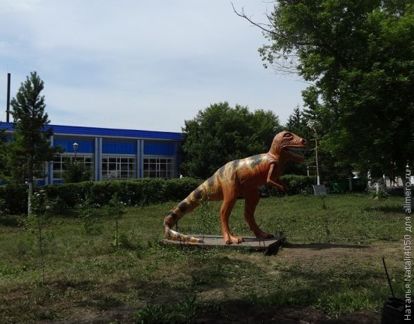 After lunch, we took the stroller and went to the store for something. And then went to walk in the park. The park here is just wonderful. To be honest, I didn't even expect that everything in the village could be so neat and beautifully arranged. Fountain, lawns, gazebos, flower beds and various sculptural works. All photos in this article are made in this park.
Walking through the park, we returned home. Elina's home is also a mass of all affairs. It is necessary to move the stroller through all the rooms, sort out the grandfather's discs with movies, arrange the books. How to feed the cat out of the child's dish and eat itself, clean up the refrigerator or cupboard, and much more. And be sure to take a bath with your favorite toys. Well, sometimes sleep.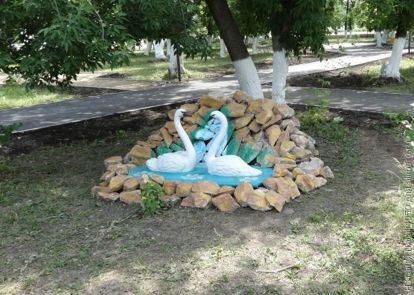 In the evening we took the stroller again and went for a walk. At first we went to the swamp, it is 2-3 minutes walk from grandma's house. We looked there for ducks and geese. Elinka especially liked the geese. Though they sometimes hissed at us. Then our path lay to visit my godfather. There, Elinka ran around the yard, ran all the rooms and nursed the kittens.
After the guests, we returned to our grandmother, had dinner, washed ourselves and began to get ready for bed. So flew all the time of our holiday. You can say imperceptibly. I returned tanned, docha too. As if from a resort.
How did you spend this summer?