Daughters-mothers, lotto, cars, puzzles.
Children's games do not count all.
And, like a regular mom, I should
Together with the children on the rug to sit down.
To eat with my daughter a fictional cake,
Together with his son to build a cat house,
A carved dirk from the cardboard – a bear in its paws – will be a sailor.
What cute pictures painted my imagination when I thought about the birth of children. Having learned about my first pregnancy, I began to plan almost every next month after the birth of the baby. I read reference books about the development of children, made notes in a notebook (which games are suitable for which age), and. etc.
And what happened in reality? Constant cares – washing, ironing, cooking. And sleepless nights? What kind of games are there, when the eyes just stick together with fatigue. There were days when my communication with my daughter was reduced to her feeding, dressing up and loving to her agukanyu between times.
The older my girl got, the more I worried that we hardly played together. In my understanding, you need to play with the child often and for a long time. To help build a tower of colored cubes (teaching the crumbs form and color), dress up dolls (instilling accuracy and sense of taste). And all this, at least one and a half hours.
That's just how to carve out this time in the daily bustle? And, most importantly, where to be patient, because all this fun began to bother me in 10-15 minutes?
In fact, everything turned out to be much simpler, and it is even possible to combine pleasant (communication) with useful (household chores).
As soon as my daughter began to strive to crawl, I made a soft blanket in the kitchen, from which she closely followed my actions. As toys, I offered the baby bright plastic caps, clothespins and other household items. At the same time it was very important to talk with the baby, to talk about everything that was happening around.
When I needed to go to another room, I was in no hurry to pick up the kid in my arms. It seemed to me more reasonable to give her the opportunity to overcome this short distance on her own. So she developed well physically, and this in turn contributed to the development of mental.
Further more. When my daughter learned to walk, her favorite game was to repeat my deeds. For example, washing clothes, I put a bowl and for the baby, gave her baby soap and a handkerchief – how happy she was! We also cooked together. While I was cleaning the vegetables, my daughter served them to me, then we went through the cereals together, and so on.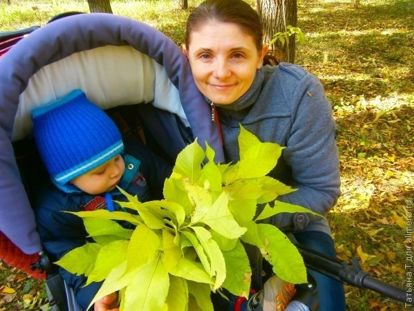 And one more rule. You need to constantly communicate with the child, take it in your hands, explain the purpose of different subjects, give an opportunity to participate in adult affairs. And to play … only if there is a desire and strength.
Do you play games with children? What if not a secret?