A year and a half ago a small treasure appeared in our family – our daughter Sabrinka. I remember very well the first month of her life, when we just brought her from the hospital. This, in my opinion, was the easiest month for me – she slept a lot.
How to sleep newborn babes
In the first month of life, babies usually sleep a lot, for 16-18 hours, waking up, only to eat my mother's milk or a mixture.
The norm is considered to be at least 13 hours. If the baby sleeps less, it can talk about possible problems that may affect the mood of your baby.
My daughter woke up to eat about every three hours, so I could not sleep at night. And, frankly, I still can not, although I no longer breastfeed.
It is important to pay attention!
For the baby to be awake for more than two hours is very difficult. Therefore, it is advisable to go to bed no later than this gap, otherwise he will be overworked and he will fall asleep even more difficult.
As soon as I saw my daughter become sleepy, I tried to rock her and put her to bed.
How I put my daughter
I was so jealous of moms whose children were falling asleep with their breasts! For us it was a rarity. She practically didn't fall asleep with Sisy, they only helped rocking.
I could swing it for a long time, then my hands became numb, I started to hurt. And then, I found a great way to swing it, jumping on a gymnastic ball. I have it big, 75 centimeters in diameter. With it, it was much easier.
I even got used to straining the press and legs in a certain way so that such jumps would turn into sports exercises at the same time.
The pendulum crib also helped me a lot. This is a great invention. It is so convenient to put a baby in it and rock, singing a lullaby. She was very helpful when baby Sabrina woke up between feedings.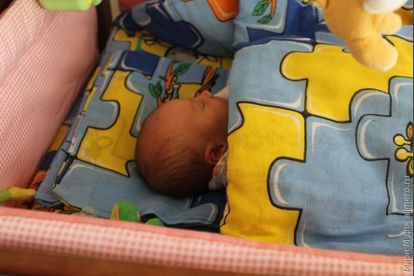 I do not support joint sleep, so my daughter always slept in her crib. At first I shook her, and then laid in bed. If she started to wake up, then I just put my hand on it and swayed it with the help of a cot.
Sleep mode, similar to adult mode, is produced by crumbs for months to six by the year. To him the kids need to teach.
Girls, how did your crumbs sleep in the first month of life?