I immediately decided that I would breastfeed my daughter. No mixes and prikormov ahead of time. I sincerely and unconditionally believe in the usefulness of breast milk. However, breastfeeding is not a very convenient thing, in terms of mom's mobility.
And I – my mother is active. Some may even call me a cuckoo, because with the advent of my daughter I tried to preserve my rhythm of life as much as possible. I occasionally had to leave my treasure with my mother, mother-in-law, sisters, ex-husband, while I was getting a second degree, playing sports, or just spending time with friends.
And then the question arises – something you need to feed. When you are breastfeeding, you do not pay attention to how much the baby eats, sucks your breast, but sucks. But when you start using the bottle, you wonder: How much milk does it take for the baby to eat?
Standards for babies up to a year

In the tablet below, I collected approximate nutritional standards for newborns from 10 days to a year. The figures, of course, are approximate. They do not mean that it is necessary to pour just that much milk into a child, neither a gram less, nor a gram more. This is just an approximate guide for us, caring mommies.
From 10 days to 6 weeks – 1/5 of body weight (approximately 600-900 ml per day).
From 6 weeks to 4 months – 1/6 of body weight (approximately 700-900 ml per day).
From 4 months to 6 months – 1/7 of body weight (approximately 800-1000 ml per day).
From 6 months to 8 months – 1/8 of body weight (approximately 900-1000 ml per day).
From 8 months to 12 months – 1/9 of body weight (approximately 900-1100 ml per day).
Kids eat 5 to 9 times a day. So consider how much you need to prepare milk for one feeding. If your baby is gaining about 150-200 grams per week, be sure, she has enough food. If the increase is faster, then keep in mind that you are likely to overfeed the child, and this is also not entirely helpful.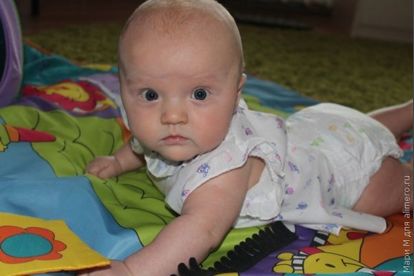 Have you had enough baby?

It always seemed to me that if a child is cheerful, sociable, active and does not cry, then he is well. He does not want to eat. I try not to look at the norms, especially because each baby develops in its own way and it will not be possible to level one size fits all. It seems to me that if he wants to eat, or not to eat, he will surely let you know about it with his behavior, bad mood, and begin to be capricious. At least, my daughter acts that way.
How do you determine if your baby is fed up or not? How was the amount of necessary nutrition calculated?