Sadik. Scary word. I did not go to this place. My brother and I were brought up at home. That is, I approached in all respects, but the younger brother was refused to take the brother to the garden for a year – he was painful from childhood, and there was something wrong with the analyzes. We decided to leave both at home.
We had fun. On the street (lived in a private house) always full of children. Mom, when she left the maternity leave, left us with grandmothers. I can not complain about anything – we were more than prepared for school. And they read, and wrote, and were friends with arithmetic. Speech therapist praised me in wild delight. I do not remember this – my mother told me.
Before the school commission. All doctors on the list. In short, as usual. And lead me to a speech therapist. The doctor asks if I know the verses. I know. She puts me on the chair and asks me to read the poem. Well, I read. From the beginning and not yet stopped ON MEMORY The Tale of Tsar Saltan A.S. Pushkin. Speech therapist was delighted and sincerely shook mom's hand.



How I sent my to kindergarten
Unfortunately, my son was not allowed to leave for grandmothers. My mother was constantly at work, and she used to go to work in a neighboring country for work. And the grandmother complains about health – and with a heart is bad, and walks, relying on a cane. Where to keep track of a small atomic bomb, which still strives to find an adventure on the ass.
I had to worry about finding a kindergarten. We are registered with the child in the same private sector, where my parents live. Only I rent an apartment almost at the other end of the city, because parents need to be loved from a distance (this is my personal opinion).
First I went to the garden, which a good friend highly recommended to me. She had a nephew who studied there and one of the other children of her acquaintances. In general, went. The interview for the manager took place during the day before the direct visit. Now there is the possibility of online recording. Then this was not.
I, having come under the walls of this educational institution at the beginning of the Seventh morning, was already on the list forty with a tail. As a result, they never took us. They said no places. Upset. Then she went to the garden where the son should go to the place of registration. There I was embarrassed by the fact that they took everyone without thinking.
The main condition for admission is a voluntary-compulsory contribution to the needs of the institution. What I did not like was that the money had to be passed from hand to hand to the teachers or who was in charge of the funds there. And only after that a statement was issued in which I, such and such, must express a request for my child to be taken to the garden.
That is, I give the money, and not the fact that I will not be told later, there are no places. So it turns out? Plus – the disgusting location of the garden. It stands literally above the road itself, the gate is open day and night. What if? Well, physically, a couple with a teacher can't keep track of the little harmful monkeys.
Being increasingly irritated and sad, I still get into the garden in which my child is now studying. Head immediately I really liked. Strong, strong-willed woman with an iron character and steel nerves. Perhaps others in such positions simply do not survive.
I was immediately offered two options for the development of events – I can send my son to the garden from the first of September, like all normal people. And I can apply, and it will be accepted from the beginning of the summer. There will be fewer babies, they can get used to it in advance. I gladly agree to the last option.
The kid gets used to visiting the garden literally in a week. And never in all this time have we had a single scandal with our teachers – my son is happy to spend time, I am happy and calm. At first, however, also could not get used. I went home, and I was met by silence. Unusually and frighteningly, after practically unlearned how to perceive something, except for the children's voice, laughter, shouts, games, cartoons.
Advantages and disadvantages

The son is pleased. This is the first and most important thing. He learns to communicate with children, with equals. He has greatly expanded vocabulary. But!
Son is changing. And not always for the better.
Like all normal mothers, I tried to convey to my child that they needed to be friends with children, share toys and not be greedy. As a result, the son without a second thought gives the child a toy, and this toy is literally torn to pieces, broken in his eyes.
The baby is in tears. Well, how can he explain at two-year-olds that sharing is necessary, there are just kids (and their mothers) who do not know how to behave. I just can't imagine what you are doing at home with your child, that he comes into the garden, asks for other people's toys and starts to break them in the brazen way. This is not a child should be punished, it is necessary to peel parents so that the brain is activated (sorry).
Then, the child learned to lie. At home this has never happened. I try to inform my son that if I have done something stupid, I must confess, ask for forgiveness. But no – now he blatantly lies in his eyes. Favorite phrase, when I start to ask – It's not me, it was done by a cousin (uncle) (depending on who you look at). And sometimes it happened. It happened.
Children copy the behavior of adults. I understand that perfectly. Therefore, I try not only to do nothing inappropriate, but also to clearly explain my behavior. By the way, in the future, I will try to convey to the child that if he is lying – he must do so that there is not a single complaint to him. Yes, cruel. But … our terrible world cannot be conquered in a different way.
Yes, in some ways I limit a child. In some ways I am very strict. But! I see the results of this rigor. For example, I forbid my son to come to the computer. At all. No games! Maybe we'll see a cartoon together, and even then, I try to replace it with a simple game, walking in the air, reading. Yes, anything.
The result is for my son, for the ONLY one in the group, one hundred percent vision. For me, this is more than a weighty reason for pride.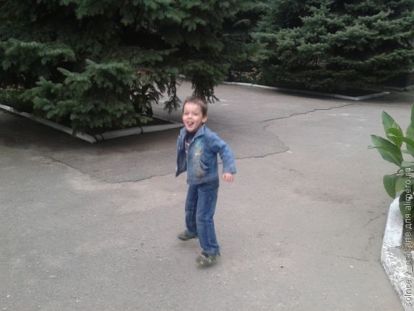 What I like in the garden – the teachers are trying hard to develop figurative thinking, fantasy, logic to the children. The son cannot yet clearly explain, but he quite clearly understands and distinguishes such concepts as how far, wide, narrow, tall, and so on. And fantasizes so that sometimes you wonder.
There was a case, walking along the avenue. My child climbed onto the stump and, raising his hands up, issued Mom, look, I am a tree. I would never have thought of such an association in my life.
A personality develops in the son. And this personality adapts to the society. Already, the teachers say that he has the pronounced makings of a leader. Children subconsciously are drawn to him, any game around him. I am pleased to. I am glad that my son is in this garden.