Already the second New Year, we will meet with our little daughter. And if last year she was still quite a baby, now, in her 1.9 Elina, it is already interesting to receive gifts and decorate the Christmas tree.
Preparing for New Year's Eve, we began in advance. Bought gifts, toys for the Christmas tree, tinsel to decorate the room and daughter's favorite balloons. After all, all these little things and create a festive mood.
A couple of days ago we were given a live Christmas tree. At first I had doubts about its installation. I was afraid that my daughter would climb and prick. But I worried in vain. She liked the Christmas tree so much that at first she just smelled it, and then, to the best of her abilities, joined the dressing process.
Holiday for daughter
A couple of weeks ago, the daughter's mode has shifted and now she does not go to bed before 12 o'clock at night. So it is quite possible that we will meet the New Year 2015 together.
In the early evening we will go to visit my mom. She prepared Elina gifts that can be found not only under the Christmas tree, but also in our favorite places for our daughter's games. These are kitchen cabinets and drawers in the hallway.
On the way back, we planned to launch colorful lanterns into the sky. I think El will love it. And if there is no frost, then we will go to the central Christmas tree. Let's see the sculptures, take a ride on the slides and take a photo with Grandpa Frost.
After returning home, Elina will find some gifts (doll, toys) under the tree, but we decided to put LEGO there in the morning of January 1.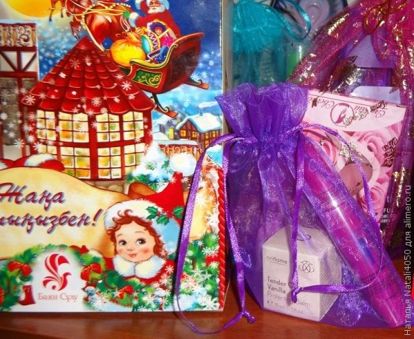 Holiday for us
We live in the same house with my husband's mother and grandmother, so the list of dishes for the festive table was divided in half between our little family and them. I am responsible for appetizers and beautiful serving, and they are for the hot and beloved Olivier salad.
In our room, I decided to reserve a small snack table. Canapes, tartlets with caviar, fruit sliced, Cinzano and orange juice. I think that after actively eating hot salads in the process of seeing off the old year, this is what you need.
As soon as the clock strikes midnight, my husband and I traditionally exchange presents and make the most cherished wishes.
I love to celebrate the new year at home, in a circle of loved ones. And in the company of my beloved husband and daughter, I certainly will not be bored.
And how will you celebrate New 2015?