… and really loved him!
Today I will talk about how we got used to the sling and how it became an integral part of our life 🙂
I wanted to master the sling and carry the baby on myself intuitively, without even knowing about all its undeniable advantages.
Desired purchase and first samples
There are a lot of slings now. After reviewing several videos of sling consultants, I stopped at a regular woven sling-scarf with lateral tension. My model costs about 3,000 rubles, I bought it from the online store.
And so, when the parcel arrived, the main problem was winding. I had to learn from videos on youtube, because at that time no one could teach me.
I know that someone is studying on cats or dolls, but I learned to wind up immediately with the baby 🙂
At first I tried to make a cradle, but it seemed to me too difficult – nothing happened, and my daughter was so excited. After a couple of hours I began to try the kangaroo, but it also did not work out the first time. My daughter did not understand what was being done with her and where they were trying to shove her 🙂
The next day I tried a method of winding a cross over my pocket and I did it! The baby ate a little, and then sat for 20 minutes.
My daughter was 2 months old when she first sat in a sling. And, in my opinion, you need to start as early as possible. I know stories when babies who are taught to sling in 4-5 months, categorically refuse to be in it.
And so, gradually, I began to increase the time in the sling. Now the daughter can sit in a sling at least all day with breaks for changing diapers, especially when we get out to the city. Moreover, in a sling, she is fast asleep in just ten minutes!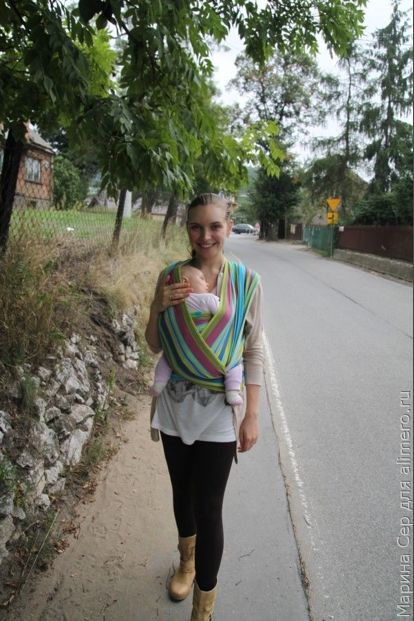 Sling is a Thing!
Yes, yes, with a capital letter! And I want to describe our positive experience of wearing a sling on items:
1. At 2 months there was a suspicion of underdevelopment of the hip, the orthopedist said to wear a month in a sling, and at 3 months the ultrasound showed no deviations.
2. Due to the fact that my hands are free, I do housework and work at a laptop. And you can also walk with your husband by the handle, and in your other hand hold the cake;)
3. We have become much more mobile. Now I can go with the baby on any transport (we do not have a car), go to any store and beauty salon.
With my husband, we can go for a walk for the whole day and go out of town. And in a week we are planning a trip to the mountains – with a sling, of course!
4. When my daughter is naughty, she cannot fall asleep during the day and asks for her arms, the sling helps a lot and saves my back and arms. Having calmed down, the daughter sleeps stronger and longer than in the crib.
5. Sometimes I feed my daughter right in the sling, when she needs only to drink a little, and not to eat thoroughly and then also thoroughly fill the diaper :).
6. And, most importantly, it is an indescribable feeling of intimacy with the child. My husband and I are happy to carry our daughter on ourselves, and she develops a sense of calm and security.
P.S. Now I want to buy or make sling buses 🙂
Do you have experience wearing a baby in a sling? Would you like to try?