Massage has a very positive effect on the health of the child (person) – everyone knows this, but not everyone knows that everyone can learn how to do massage.
My learning experience
After the birth of the baby, I tried to give him everything that can be identified in the essential list. In this list (after breastfeeding), I identified and massage, which helps the baby to develop not only physically, but also neuro-mental.
I received my first massage lessons even when I was studying in a girl's evening gymnasium. There were a few lessons on baby massage, but until I had a child, I forgot a lot of things.
And there was the fear of improperly massaging or hurting the baby. Since with the help of massage you can make the child both healthy and sick, then I was afraid to experiment on the health of the baby myself.
Qualified assistant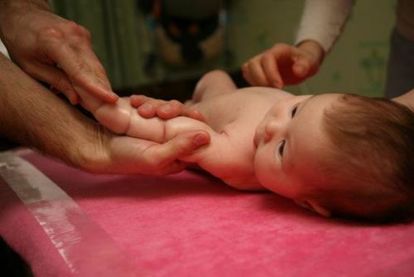 For help, I went to the hospital, where the attending physician did massage for the kids for money. My request was not to get expert help in the form of a massage, but to let a specialist teach me several techniques of baby massage.
A couple of sessions, the doctor taught me to do the right massage for children, since I learned the basics at the gymnasium.
I did the first massages for the child under the supervision of a doctor who monitored the correctness of its implementation. Everything turned out to be quite easy, but the most important thing was that in my movements there was confidence, which gave my son a lot of pleasure, health and joy.
The son is already four years old, and he still likes massage, which is considered commonplace in our family.
The main thing is to take the first step to get to the right place. Being healthy is easy!