I am the mother of charming twins. Now my girls are already going to school. It is only at first glance they seem absolutely the same. But, if you look closely, you can find moles and other distinction features.
Character also makes itself felt. Agnesha is calmer and more docile, and Yesenka is a small hurricane. This is reflected in the behavior of girls. The movements of Agnes are smoother, more graceful. And Jesenia has lights in her eyes, sharper manners and quick speech.
Two miracles in my life
When my girls were born, they did not seem so different to me. On the contrary, I could not find a single difference between these synchronously screaming lumps. Even the undershirts of different colors did not correct the situation.
Exhausted by my new role, an hour after dressing I forgot which of the daughters was wearing a pink vest, and who was wearing a green one.
There was once a funny situation. Night. I, having fed Agnes, go to the kitchen to plant a mixture for Esenka (and we were then mixed feeding). I feed Esenka, and Agnes screams.
Esenya falls asleep in her arms, and I shake a screaming baby for a long time and cannot understand the reason for her anxiety. Only then it dawned on me that I had fed one child twice (I still don't know exactly who), and the second tried to put me to sleep on an empty stomach.
The husband distinguished the babies even worse than me. We could argue for a long time who is who. My parents turned to granddaughters easier. And one and the other called Pups. And no one was hurt.
When the girls were one month old, the district pediatrician in the clinic asked us if we distinguish girls. We honestly admitted that not always. And then the doctor told us a simple, but ingenious way. Tie the handle of each ribbon in different colors. And as we had not guessed before!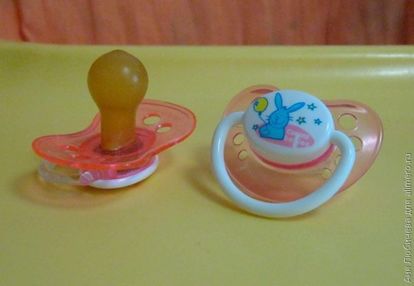 so different twins
These insignia they wore up to six months. By the time the differences in the appearance of the girls could be seen. Yesenia had a more magnificent head of hair than her sister. She was slimmer and had learned to sit on her own before. When Agnesha was just beginning to sit awkwardly, Esenka was already confidently holding her back.
Agnesha could spend several hours in a bed without the attention of adults. She was busy with rattles, looked at her own hands and muttered something to herself.
Esenka, on the contrary, did not lie in the crib for a minute. When she awoke, she screamed and arched in such a way that even a strict and uncompromising husband ran more quickly into the bedroom to pick her up.
So I did not notice how my girls grew up. Honestly, I still wonder how our friends do not distinguish them, because they are completely different! Do you have any twins around you? Do you distinguish them?