The question of how to properly and when you need to start feeding your baby feed, I began to worry very early. It seemed to me that it was such a difficult process that I myself could never cope with it, and my daughter under 5 years old would eat one milk.
When my daughter was 4 months old, I became interested in the question of complementary foods even more. I have studied almost all sites for young parents. All of them said: you can start to lure the baby in the period from 3.5 months to six months.
But I didn't stop there, I interviewed all the familiar moms who had children older than my daughter. All in one voice asserted that this is nothing complicated, and you should not worry so much. And what time to start feeding is completely my business.
At 4.5 months, I began to give my baby some apple juice. I did it this way: before each breastfeeding I gave one teaspoon a mixture of juice and water. It was funny and not familiar to watch how she reacts to the new taste.
When my daughter was 5.5 months old, I started giving her a teaspoonful of cauliflower puree for lunch. The baby was surprised that she felt a different taste. Every day I increased the amount of mashed potatoes. We started with corn poppy, my daughter didn't like her at first, but when I added some fruit, I ate everything and started asking for supplements.
Closer to 6.5 months, our diet has expanded significantly: for breakfast – cereal with fruit, for lunch – vegetables with meat, for afternoon tea – fruit puree, and for dinner and before going to bed – milk. Then I gradually began to introduce other vegetables: broccoli, carrots, zucchini and pumpkin.
Every day I increased the amount of mashed potatoes: I started from 1 tsp. and by the end of the week we ate 7 spoons of vegetables. All washed down with breast milk. It is good that the daughter reacted calmly to new products. Fortunately, we had no manifestations of allergy to any product, and did not bother the tummy at night.
At 8 months exactly began to try dairy products: kefir, yogurt and cottage cheese. Our little one liked it, and I was calm that the child liked such healthy products. Closer to 10 months, when we already had 6 teeth, I stopped blender food. My daughter began to refuse food, which was puree, it became more interesting for her to eat the same food that mom and dad eat, so I cut everything in small pieces.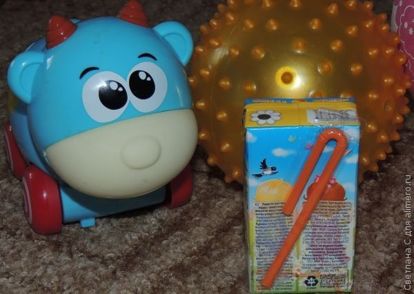 Now our baby is eating the same thing that we, parents, are eating. In this regard, it has become much easier, of course, because you can always feed the child with something, no need to run around looking for jars of ready-made mashed potatoes. Now the question of feeding does not seem to me to be so complicated and unusual.
And how did you start introducing food to your children? And what your kids eat now?