Buying strollers before delivery – to the negative. This is the only sign in which I believed. It turned out not in vain. The carriage was given to us. And since this gift fell like snow on my head, I spent the last months of pregnancy in choosing a transport for the baby.
My requirements for the stroller for the winter
Our baby is winter, and born at its very beginning, which means that we would have to walk along asphalt covered with snow and ice. And in the wind, snow, heat. Therefore, I decided that it is best to pay attention to the good, deep, comfortable, cradle and soft shock absorption of the stroller. Pair of wheels must follow each other along one track.
It was then that I learned that they still clean the snow quite well, and where they don't clean it, they trample it in such a way that the wheelchair can be rolled on such snow just as it does on smooth asphalt. It seemed to me that the turning wheels are not needed at all in the winter time and they will only interfere or mow sideways. But here I was wrong. In addition, the wheels can be fixed and they will go along a perfectly straight trajectory.
My requirements for the stroller for the summer
I have long suffered – buy 2 strollers (one for the winter, the other for the summer) or still one, but a transformer. As a result, she stopped at the second option, in order to get rid of the choice once and for all. In principle, the truth is convenient.
I also certainly needed a mosquito net and a rain cover right away. To be honest, we used the rain cover only 1 time when we returned from the clinic. And so – in the rain for a walk you still will not go.
Capes on the child's feet, which are worn over the stroller, are saved from light rain. After all, the material in most wheelchairs repels moisture. And in the rain all the same you will not walk. Even if you fall into a shower by chance, you will look for a place to wait it out.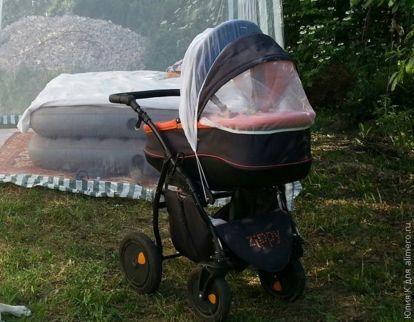 At the expense of mosquitoes – she helped us a lot in the country. In the city, I somehow do not observe a large number of mosquitoes and black flies that can fly into the carriage. You walk all the same in the afternoon, when there are not so many insects. In addition, you do not stand still with the stroller, you move all the time, so I don't see any problems with insects.
I learned about the existence of the summer stroller-cane just now, then I did not even think to consider such an option. And who knows, maybe it would still be better to buy 2 strollers. One with a cradle for the newborn, and the second – a cane. But there is a flaw in it. If a child wants to sleep, it can only be done by sitting. Therefore, I, in general, while pleased with what I have.
Mother's handbag on the stroller for baby clothes
An indispensable thing! I use from the first day to this day. It is very convenient to put all the necessary things and hang it on the stroller. Hands are free, but everything baby is at hand. Toys, pampers, wet wipes, diaper, medpolis, water and snack. What just does not fit in this compact bag. Well, that at one time I did not ignore her.
You should not dwell so much on the choice of strollers. Now there are so many options: strollers, canes, strollers, sledges and even three-wheeled carriages-motorcycles that it seems to me that one purchase will not do. Therefore, you should not treat the purchase of a stroller as a great event and spend too much energy, time and effort on it.