The orthopedic doctor prescribed us physiotherapy and massage. For ten days in a row, we needed to go to the clinic, which was at a decent distance from the house. Here I came up with the idea of ​​a backpack-carrying. Manufacturers promise a lot of things, but let's see what's what.
I'll say right away – slings and all other things that need to be wrapped around your own body are not for me. I do not trust them, maybe in vain. Nevertheless, I needed something simple and logical, so as not to think like that or not, I wound something around myself. In addition, the thing must be universal, so that dad could use it, for example.
That is why we chose backpacks. There is a lot of information on the Internet, I literally drowned in it. It turns out that backpacks are divided into ordinary and ergo. Reading the comparative characteristics, I chose ergo.
1. Planting a child.
In ergo-backpack has a wide bed. Thanks to him, the legs of the child do not hang down, they kind of clasp mother's waist, which I think is very good and comfortable. In ordinary backpacks, the legs just hang down and as the child grows, they will most likely start to beat about her mother's feet when walking, which is extremely inconvenient. It also seems to me that in an ordinary backpack there may be pressure on the groin area. Here, probably, it is worth looking at a particular child.
2. Weight distribution.
In the case of ergo-backpacks, the weight is distributed evenly due to proper fit. Baby as if hugging mom. In ordinary backpacks, as it seemed to me, the bulk of the body falls on the fifth point.
3. Support for my mother's back.
And with frequent use of the backpack – this is very important. In ergo, under the ass of the baby there is, as a rule, a very wide belt. In addition, shoulder straps are also wide and do not cut into the body. All this helps to distribute the weight of the baby and reduce the load on her mother's back.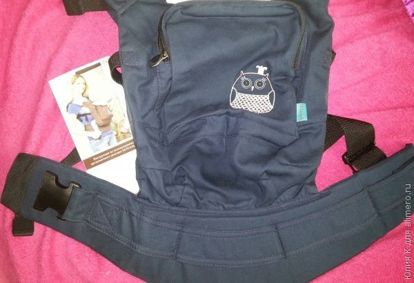 4. Ease of sitting.
Since the baby's legs do not hang down, the mother will be comfortable even if she wants to sit down.
5. Ability to breastfeed.
The straps of the ergo-backpack are quite mobile, you can loosen them a little and the baby will be right in front of her mother's chest and will be able to eat while moving. In order not to embarrass anyone, you can wear a built-in hood.
6. Lifetime.
Ergo can be used for a long time – up to 2-3 years old child. Just because of the proper fit and weight distribution. Ordinary backpacks can be used until the child reaches a certain weight. Mostly up to 8-10 kg. In fact, the attachments and straps of such a backpack can bear the greater weight of the child, but can mother's back sustain it? Most likely no.
Having learned all the advantages of an ergo-backpack, I wanted to become its happy owner. But I was shocked that the most common models are very expensive – from 5 thousand rubles and more. For example, Ergo Baby Carrier, Boba Carrier 3G.
At that time, our budget did not allow such purchases. I began to look for options and found our and Ukrainian counterparts that are not inferior in quality. Price range 2-3 thousand rubles: IloveMum, Modamam. Also on Aliexpress, I saw ergo backpacks at a price even lower than this, but I didn't risk it. Especially in a regular store there is the possibility of trying on and testing a backpack's drive for about a week.
What to look for?
1. Manufacturers of backpacks write in their booklets that their products can be used from 0. But I would not believe it. Still, the bones of the baby are still quite fragile, the spine is not strong. Yes, and a masseuse and orthopedist confirmed my doubts. For myself, I decided that the backpack will be used when the baby starts to sit. Well, in 0 – 3 months the baby still does not hold his head. Although in some models there is support for the head, but still the kid should almost be able to keep his head on his own.
2. The backpack is more suitable for warm weather. Just imagine – you are in a jacket, the kid is also wrapped in 33 layers of clothes, and you have to manage to cram it in a backpack. And this is taking into account that the little ones do not like to dress and the day before there was a roar and hysterics about this. And in this mood, the cub must be attached to the backpack. I do not know how your kids, but I obviously did not like it. When he is dressed in a light and in a good mood – this, please – with pleasure fits in a backpack.
3. Do not really count on long carrying a baby in a backpack. Its main purpose is to get from point A to point B. The child must change its position. Every 40 minutes it should be taken out of the backpack, and it is not recommended to wear it in such a way for more than two hours a day.
In any case, this thing is very useful. Mom is getting more mobile, any kind of transport can do it. Hands free. I know some moms who in the kitchen cook with the children in a backpack. Just their kids are very restless and inquisitive.