Winter … And again, a complete change of wardrobe for a child … Again, a painful choice: what to buy, what will be more convenient for walking. And most importantly, how not to freeze.
And today in my topic I want to share my agony of choice, and what I came up with as a result of my observations.
Jacket or overalls
How good it was when we were very young and slept in a stroller for a walk. I bought a warm covert, wrapped the baby in a blanket and walk. And now we are big, we need not only to sit in a wheelchair, but also to know the world around us. After all, in the winter there are so many interesting things.
To be honest, I expected that this winter we will be walking in our jumpsuit. He was warm and beautiful, and he was the best fit for us. In the first cold days I dressed my daughter in him, and we went for a walk.
But the walk failed. In a solid jumpsuit, the child absolutely could not move. The baby was quickly tired, became capricious, and had to go home.
Maybe you saw a picture when a kid in overalls tries to pick up a ball from the ground and falls instead, because it is impossible to bend over anything. That was our option. I realized that at this rate our winter walks would be reduced to a minimum, and decided to buy other outerwear.
Our friend bought a membrane romper for her son. He is much lighter, and the kid in him played quite actively on the street. I saw enough of them and went to the store.
But after discussions with the seller I realized that this is not our option. In such a dress, the baby will not freeze if it is active on the street. But my daughter is not very active, and most of the time she spends sitting in strollers and watches what is happening around her. And only a small part of our walk, we are trying to run.
Then I decided to buy a set of jackets and warm pants made of waterproof material. Of course, this is far from a lightweight version, as a membrane overalls, but still this solution is more satisfied with my child. It's not cold for us to walk in a stroller in such a kit, and it's quite convenient to run around.
By the way, one of my friends went broke and bought all three types of outerwear for her daughter. Money spent a whole bunch. As a result, a month later, everything was not enough for them – the baby decided to please Mom with an accelerated growth rate. The sadness of my friend knew no bounds.
Oh, how we do not like hats! How many of them we already had. And with a pompon, and without, and knitted, and fur. And when you also wear a scarf around your neck – it is a disaster at all! Do not go outside though.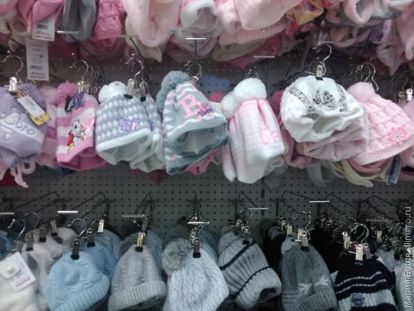 I was saved by one of my friends, who advised me to buy a helmet-cap. And the ears of the child are closed, and the neck too, and it is quite convenient to twist his head. Of course, the first times we suffered from dressing, but now we are used to it. It is a good option for the baby!
The choice of shoes made me confused at all! Sellers assured me that I needed several pairs. Well, can not do without felt boots in extreme cold. Well, in the slush life without membrane shoes or leather boots is generally impossible. And considering the prices for the new nursery, the amount is decent. In addition, the whole season may not be enough, as the legs grow quickly.
I thought I thought and decided that I would buy membrane boots. They are easier, and you can walk in them at a temperature of minus 15 degrees. Well, with our climate recently severe frosts are not often. Yes, and with a child at minus 20-25 on the street you will not go for a walk.
By the way, the baby really liked such shoes. She runs in them confidently, and the legs are always warm.
Well, in addition to everything, I bought a thermal underwear for my daughter. Now the child does not need to dress like cabbage, she does not freeze and does not sweat, which is also very important.
In general, through long-term experiments, we bought a winter wardrobe, which we are quite satisfied with!
Mommies, and what clothes for your kids have you purchased this season?