Just want to say – we have not yet reached that age when we run around the store and shout – well, buy me at least something. Not. We are only 1.2 years old, but we regularly go to the shopping centers with our daughters. Firstly, it is necessary to buy all sorts of children's things, and secondly, just to unwind.
If earlier we came to the store and could safely spend 2 hours in a wheelchair, now everything has changed. We don't want to sit in a carriage, we are also quickly bored with walking. And in general – everything is wrong, everything is not that way. But you will not get away from shopping, and I began to think how calmly, without nerves and tantrums, we now visit the shopping center.
At one time, I thought that while visiting the store, my daughter wanted to sleep, or she was hungry. But even the trip after sleep and a good dinner ended in the same – I do not want anything. Then I began to take with me all sorts of entertainments for the baby, in order to at least make some purchases.
I will definitely take with me a canned puree, which she can eat herself. She likes it very much, and we are guaranteed 10 minutes of a relaxing trip. Then my daughter still plays the same amount with packaging. So then, thanks to the puree from the series I myself, as a bonus, I get 20 minutes of walking around the store.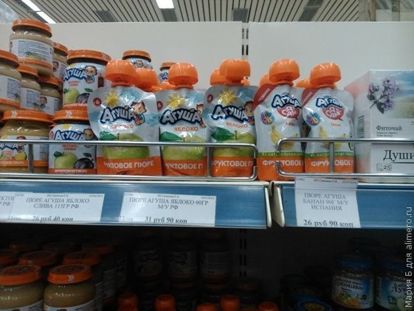 Then comes the juice! My daughter gladly sucks it out of the tube. And drank after a meal, and quietly sat in the stroller. But this is where the whole food supply ends and you have to look for the following methods of distraction.
I will surely take with me a few toys that we haven't played for a long time and that we miss. 10 minutes of joy is guaranteed. Yes, a little, but every minute is important.
Of course, 40 minutes of sitting in a stroller for a child who has already started walking himself is the height of the possible. And here are the legs. I pull my daughter out of the stroller, and together we start walking around the mall. I go not where it is necessary, but where my child wants. But then we are like, we will see all sorts of interesting things and we will get a little tired.
The catch-up game helps especially – we run 5 minutes and that's it, we are tired. By the way, I now even use this chip before the night's sleep. We run actively around the apartment, get tired, eat, and after 15 minutes we are already sleeping with a baby. Otherwise they used to sway for an hour earlier.
So, you can again get into the vehicle. And here the usual shopping cart replaces the stroller. I do not know why, but many children like it so much. Of course, in the direction of travel, we take everything in hand, so that it is not boring. But for about 20 minutes I can devote myself to throwing the necessary supplies and other things into the cart, for which they came.
In general, thanks to such small tricks, one hour goes to my bonus.
Well, for me personally, a trip to a shopping center is still a way out, an opportunity to pamper yourself with something tasty and get a little distracted from everyday cooking. And that's why visiting a food court has become an integral part of our trip.
Here I need nothing at all – about 15 minutes. It seems to me that a young mother is almost a soldier. We quickly gather, quickly eat, quickly do all things. But the child believes that this is too much, for a long time, and his patience is running out.
In general, at the food court, I take everything that is possible for my daughter – napkins, plastic cups, tubules, packages with sugar. Well, for a snack. Then I put her at the table and lay out all this wealth. Oh, how children like plastic cups and all kinds of rubbish. All this is enough for me to eat normally. And the child is pleased, and I'm glad.
As a result, the purchases are made, the gastronomic needs are satisfied. You can go home. From the shopping center by car we drive only 15 minutes, but they need to endure.
As a result, we have to cover the child with everything we bought in the store. With the condition that it is not dangerous. And most importantly, checks are white, long, so beautiful. They can be torn long into small pieces. Well, just about 15 minutes is enough. And that's all. We're home! The trip was successful!
This is how we go shopping! Mommies, and how do you occupy the kids in the shopping center?