I began to bathe my son in baths with the addition of decoctions of herbs quite early, as soon as his navel healed. Despite the usefulness of such baths, at first I was a little afraid of them. After all, an allergy in a baby could occur on anything, and herbs were no exception. But everything went well. Baths with herbs brought and bring only benefit to my child.
In the preparation of decoctions for the bath is nothing complicated. I usually require for this:
– glass liter jar
– 1 liter of hot boiled water
– grass for broth
– a tablespoon (in case the herb is not packed in special filter bags)
In the jar, I drop 4 sachets of grass (or 4 spoons of grass), pour them very hot (but not boiling water) with water and leave them to cool completely. In rare cases, I do not wait for the broth to cool, insist on it for 20 minutes, and then add to the bath (10 liters) with water a little cooler than usual.
Naturally, before adding the broth to the water, I take out the filter packs from it or filter it.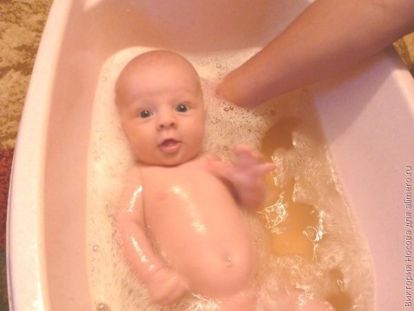 The very first baths with the addition of decoction, I did in order to treat and prevent allergic reactions in my son. Some foods I ate caused a rash in a child. In such cases, I immediately refused them. But, the rash from his son immediately after this, of course, did not pass. Therefore, in order to reduce itching and quickly clean the skin of the baby, I decided on herbal baths.
For their preparation used grass a succession. It is the safest for the baby. And at the same time, it perfectly dries the manifestations of diathesis, combats itching and redness on the skin due to the antimicrobial and anti-inflammatory action. By the way, these baths helped us to avoid such problems as the heat sink and diaper rash.
Similar effects have also chamomile and celandine. True, I began to use the grass of the last plant a little later, when my son grew up and became more active.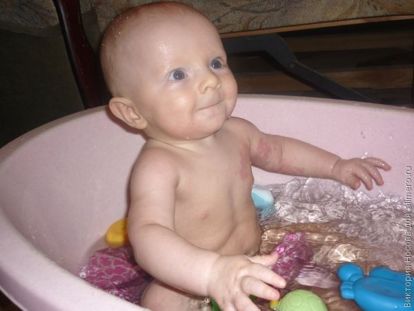 Baths with a moisturizing effect, I tried and continue to try to cook my son without a reason. After all, moisturizing and nourishing delicate baby skin can not be superfluous. I use for their preparation chamomile and nettle herbs.
These baths soothe, moisturize and nourish the skin of the child with various multivitamins (especially nettle). After them, we often do without baby cream, milk and other moisturizers.
Since my son is a very active child, sometimes I think it is worth it to calm him a little before bedtime. For this purpose, we are perfect bath with a decoction mint or pine needles. Their smell relaxes, soothes and adjusts the child to a more sound sleep.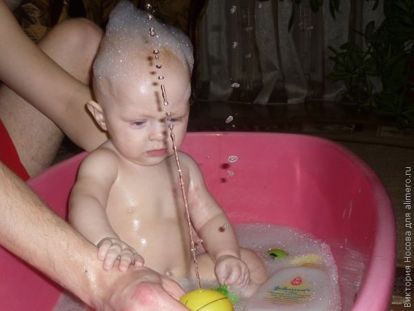 1. After bathing the child in any of the described herbal baths, I do not rinse him. I wipe a little with a towel, let the skin dry. And sometimes, if necessary, I coat some areas with a moisturizer.
2. Despite the fact that for children's baths, you can prepare decoctions from mixtures of herbs, I do not. In my opinion, using one herb is much safer and more convenient.
3. I usually arrange herbal baths for my child three times a week, and not at every bathing (which we have daily).
Do you bathe your children in herbal baths?