Surely, in every mom's life, there came a moment when the child no longer wanted to be anywhere else, except for mom's hands. And we often hear from grandmothers statements like: Oh, do not take the child so often in your arms, teach them! Hand child: is it bad or good?
Are all children tame?
Thinking about this issue, I decided to conduct a mini-survey among my friends. The results of the survey were disappointing – almost every mother noted that at one point or another of her life her child was beating off her arms, or rather, was beating her hands and didn't want to get off her mother for even a minute. Typically, the peak of this kind of behavior is, according to my friends, at the age of 0 months and up to the moment of crawling / walking on the legs.
The units of the respondents said that their child was never tame. By the way, my eldest daughter was not distinguished by increased zeal to sit on me. Or maybe after ten years it just seems to me that she was already born big and independent.
My positive experience
In connection with all of the above, I had a question – is this child's behavior not normal? I'll tell you a little about our experience. I didn't have problems with wearing the hands of my younger daughter during the period when she didn't go yet. Rather, I did not do it from the fact that she periodically did not want to lie alone, no problem.
My daughter could lie down and play with toys on the bed or on the blanket on the floor, and if I objected to such a pastime, I sat her down in a sling and we did some household chores together. For example, in a sling, you can clean scattered things, vacuum, and even wash the dishes with one hand. The quality of the last action, however, can be forgotten, but if the mountain and the dishes have to be cleaned somehow, you can do everything with one hand.
My negative experience
In general, our time spent on our hands was approximately equal to the time devoted to other activities. But it was not always so. It so happened that, starting from the end of winter and practically until last summer, the daughter often suffered from various colds. Each such episode was accompanied by a temperature of 39 degrees and constant crying.
Naturally, the sick child had to constantly calm and take on their hands. As a result, my daughter began to ask for her hands 24 hours a day. I could not prepare to eat, do something around the house, what can I say, I couldn't go to the shower and toilet like a human being, because at that time, there were terrible childish howls under the door.
By the end of this painful period, I was already so exhausted that it was scary to remember. It all ended with the end of persistent disease. In the summer we recovered health, the daughter finally began to walk with her feet and let me go on her own.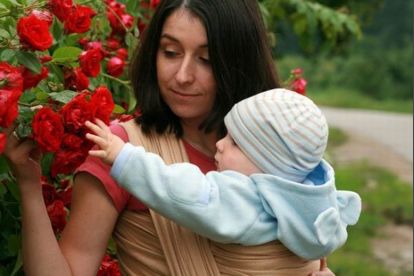 What do I think about hand children? It seems to me that if this behavior does not go beyond reasonable limits and is convenient for mother and baby, there is nothing to worry about. If finding an older child in the mother's arms is a problem, then it's time to think about two things:
a) why it happens (they taught, the child is sick, the child is afraid that the mother will leave, be bored, etc.)
b) how to disaccustom (to shift the child into the arms of the father, grandmother, grandfather, try to distract or occupy him with something else, etc.)
I would also like to note that I am not a supporter of any excessively strict measures towards the child. I am frankly surprised by those mothers who are afraid to accustom the child to their hands and try once again not to even go to the bed. After all, the baby really needs my mother's touch and hug.
I even have such a friend, who immediately moved the newborn to another room, because so he asks for less food, and is very proud that the child knows how to occupy himself in 5 months. You can criticize me, but I think that this is overkill.
A child who was not refused in his hands in his childhood, at the older age he no longer needs them – I don't remember what book on child psychology I read this expression, but I like it
And how do you feel about hand children?