As early as 9 months, I clearly imagined my daughter's painless weaning. She ate all the non-allergenic food for her and fed breast milk only to sleep. The world was so new and interesting to her that she simply forgot about the chest.
Teething
Our teeth, as they say, were late. The first one came out at 8 months and I have not yet tasted the delights of teething my crumble by this time. By my daughter year, I had already become better aware of the painfulness of this process and the accompanying difficulties.
She did not want to move far away from me and at the first sign of pain crawled towards me or whimpered intensely until I offered her peace of mind to her breasts. The only thing that helped steadily and in any conditions to the daughter to survive the pain when growing teeth is my chest.
My daughter understood this quickly and could hang on her chest for days on particularly painful days. At night, she also often fed or briefly let go of her chest, when I had time to roll over to the other side, so that he would not numb much. Or sometimes it came even easier. She shifted her daughter to the other side of herself so that I could sleep comfortably while breastfeeding her.
The second tooth peak caught my daughter, as usual, when teething erupted, it happened at 1 year and 7 months of the daughter, and lasted 2 months. She sucked her breasts in baby mode up to six months.
Then I was happy that I have breasts, with the help of which I could somehow help my daughter cope with her difficulties, because they reflected on me.
Because when she did not eat breast milk, it was a continuous stream of negative emotions, whimpers and tantrums for every minor, in my opinion, occasion.
I got up and went (c)
So says my mother-in-law about the attitude of her husband to her in moments of illness. But this is not the point. And about the fact that my daughter learned to walk at 1 year and 2 months. My child is a very careful child. And yet she also had misfires in coordination, balance, and she fell.
She also preferred to console herself against the chest. I did not need to rush and distract her, as I thought I should do when falling, she herself showed that she could calm her down. And I gave her the right one.
Now my daughter, at the age of 3.3 years, doesn't even approach me if she grabs my attention during the day and if she has hit without severe abrasions. Bruises is calm, although HB is also present. It turns out exactly as my mother-in-law says: got up and went. 🙂
Hunger is not an aunt, fatigue is not an uncle
If the baby and I are visiting for a long time, and the meal and rest time is already coming, then, having spent a few minutes on dressing, I could feed my daughter right on the way home in ergoryukzak.
We did the same when we went shopping for long or in a queue at the savings bank, when it was not possible to feed the daughter with another meal or fall asleep in the usual bed at home at the same time.
So we avoided unnecessary hysteria on the part of the daughter, taking care of her psyche and my nerve cells. Because for a long time I could not bear the tears of my daughter due to my prohibitions in my childhood.
Yes, and I did not see anything useful in hysterics, in principle, as well as in tears on such occasions as hunger or fatigue.
Stress tolerance or comfort tactics?
When the daughter was frightened of something, she asked for a breast. When she vigorously rejoiced at something, then, too, at times, asked for a breast. Because she needed help in sharing with her her strong emotions, she could not survive them without harming her psyche. And I helped her in this.
Therefore, over time, she ceased to be afraid of many things that frightened her earlier, perhaps somewhat faster than when I did not have the opportunity to calm her down with the help of my chest.
Meeting with the world while it happened for her painlessly. For the future, no rudiments of injuries were created, so that my dear child would not have to work for psychotherapists and other shrinks.
Only in this way, in my opinion, it was possible to relive the stress of my daughter in the best way and allow her to mature herself to her stress resistance. Over time, my daughter began to miss only physical contact with me, demanding the breast only in emergency cases, which became smaller.
My daughter's allergy after her year was not a weighty argument for me to continue breastfeeding. I somehow naively thought that by the 3rd years it would pass anyway.
But the recommendations of the World Health Organization were important to me. They said that to feed babies with breast milk is preferably up to 2 years.
Chest behavior
On this topic, you can write a separate topic. But I will try to say the basic things briefly. After a year, the daughter began to eat the GM, alternating between the breasts in turn: they would suck 2 minutes one, then the second, then the first again, and so on. It wore me out. Until I read the information that so children stimulate the production of milk, more.
I was also irritated by the twitching of the hair / torsion of a free nipple and the occasional chest games. Then I suddenly realized that I was the mistress of my breast. And she began to use slingobuses to satisfy her daughter's need to twist and twirl something in her hands.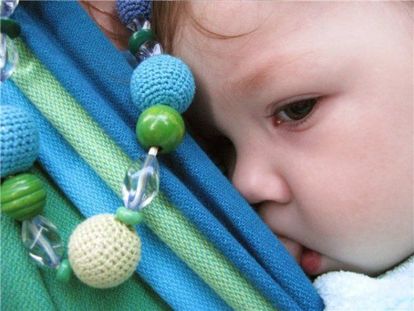 And if it didn't help, then I gently asked her to remove her hand from her chest, because it was unpleasant for me. Sometimes the daughter did not remove, and, repeating the request, I myself carefully removed my daughter's hand from the chest.
Apparently, pulling breast or something else gives relief in a stressful situation and the daughter reflexively reaches for the most important thing, which gives her that comfort – to me, of course. Well, to the chest. But then only requests to leave her chest alone were enough; she immediately removes her hands.
It is important to develop your own comfortable conditions for finding a child after a year at the breast, so that breastfeeding brings joy to both participants of the process. So, in my opinion, the child should have HB after celebrating the onset of the first day of his first year of life. After all, they are such crumbs at this age!