At one time, I collaborated with a friend who opened an event-agency. Being the host of holidays, I learned a lot about backstage of such events. Today I want to talk about graduation in kindergartens and elementary schools. More precisely, about one of the holidays, which was especially remembered.
Parents-customers decided that graduation in kindergarten should be celebrated in a big way. They rented a huge hall in a restaurant, invited the hosts (me and a colleague). Do not forget about soap bubbles, sky lanterns and other buns. Getting to the details.
Share on teams
When we arrived, 2 islands formed in the spacious room. The children played near the stage, while the adults sat at the table. The distance between the kids and parents is at least 15 meters. Do you think adults showed interest in children's fun? No matter how wrong! They continued to exchange toasts and chew salads.
We are going to the carnival
I was impressed by the festive outfits of most girls. I understand that babes like the image of princesses in lush dresses, but for graduation you should choose something more comfortable. You should have seen these girls! In samovar dresses neither jump, nor run. I'm not talking about children's fashion.
And to ryushchekam-tulle-strazikam attached shoes, which on the tile turned into skates. Heels slipped on the floor, and I was afraid that one of the girls was about to fall.
In my opinion, a fluffy dress a la cake and all kinds of tiaras are suitable only for a costumed matinee, but not for outdoor games. It seemed as if bulky outfits were bought for a photo in the family album, then to be touched: Our daughter is a real princess!

We realized.
We entertained the kids for 2 hours. For about 10 minutes before the final, parents remembered that they should congratulate the teacher. It turned out that the kids learned the poems, and therefore urgently they need to line up and demonstrate their talents.
The program was approved in advance. We discussed with parents details to avoid illogical inclusions in the script. In the end, because of someone's spontaneous decisions turned out rubbish.
After the competitions, the children forgot the rhymes a bit, so they had to rehearse. A parent's parents have already led. Children prepared, then acted. We barely had time for the next event, although we anticipated delays.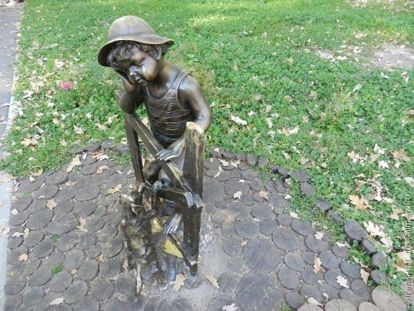 After contests
We said goodbye to graduates and went to another room to collect props. On the way back drew attention to the kids. They roamed the huge hall by themselves, and the parents continued to communicate. Occasionally, the kids heard the attendant calm down, do not run, do not indulge. Very effective, yeah!
There was an impression that the parents decided to relax and have fun, and just then there was a reason – a kindergarten graduation. And let the kids toil the rest of the evening. Adults have fun – and this is important. But then the photo in social networks will be placed with the children. See, they say, what a celebration we organized: not a matinee banal, but an evening in a restaurant! Oh, go, how generous and caring we are!
Dear readers, Alimero, I know that among you there are mothers of future kindergarten graduates. I hope this story will protect you from mistakes and help organize a fun holiday for the kids!