One of the most popular methods of early development in recent years is the Glen Doman technique. It is to teach babies to count and read practically from the cradle. The technique is named after its developer, who was a neurosurgeon from America. Methodology Glenn Doman exists about 50 years. She received high praise from teachers, psychologists and parents.
About the technique
The great advantage of the technique is the ability to successfully develop and train young children. The undoubted advantage is that this technique is easy for any parent to master. Visual material necessary for the lessons, you can easily make their own hands, and engage at home.
The main directions of the Glenn Doman method are Reading from the cradle and Mathematics for children under one year.
Reading from the cradle
Reading from the films is carried out using a set of large cards of 27×10 cm. Words should be written on them (3.5 cm font), dots and numbers. The set includes cards with words and concepts that the child encounters every day: the names of animals, objects, body parts, professions, names, vegetables, fruits, as well as prepositions, alliances and particles.
Cards are made of white cardboard. Words on them should be written clearly and bold. Red color – the most important for the child, black – less important.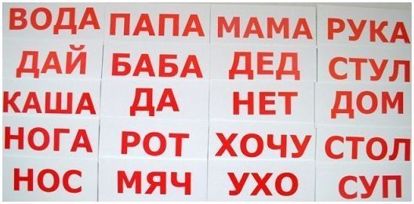 First you need to acquaint the child with cards with red font (MOM, DAD), and then supplement them with black. The reverse side of the card can serve as a diary to mark the date of occupation, the number of views and comments. One image must be shown 5-6 times, and then changed to a new one.
Mathematics for children up to a year
Mathematics for children up to one year represents the same classes with cards, only red dots from 1 to 10 (diameter 1 cm), mathematical signs (, -, /, *,, Save
yourself to praise
the author