I do not know how in other countries, but we have decided to celebrate the baptism of a child no less solemnly than the birthday. Of course, a children's holiday is not without gifts, but still it is customary to give several different gifts for baptism than for the next anniversary of birth.
Unlike many of my friends, I have never been a godmother and had no idea what gifts to give to a child. Therefore, when the future godfathers were interested, I could not find what to answer.
Having found out about the rules and traditions, my future godfather told me not to worry about buying a kryzhma (this is a special towel for baptism), chains and a cross — all this should be given by godparents.
It was very nice that the godparents thought not only about the child – I was presented with a huge bouquet of flowers in honor of this event.
The cross gave a chain, and a cross. As it turned out, they phoned in advance so that there would be no discrepancy in the color of the metal, and the godfather, like a man, took over a large part of the expenses – his cross with diamonds certainly cost much more than a chain.
At the end of the ordinance of baptism, our new relative paid for this procedure on his own initiative (there is no fixed price, from the series as you see fit).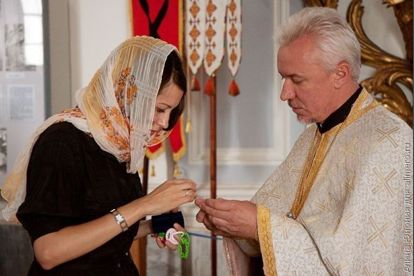 After the church, we had a dinner at a restaurant, where relatives handed over purely symbolic gifts.
Among them were large books with fairy tales of gift format (at that time the daughter was only 4 months old, so they are still waiting for their time), a huge cake for our table, a few bottles of good alcohol (these are not exactly daughters, but still), clothes for a baby for growth and money.
Later I learned that the godmother should give a baptismal outfit – a special long white dress. By the way, my godfather apologized more than once that she had lost sight of this moment.
I consider such a purchase a waste of money – because the cost of this dress is rather big (from 1500 to 4000r.), And you can wear it only once, and then send it to the closet for many years, or peredelivat someone.
Jewels are considered a universal gift – both jewelery and gold bars, which can be purchased (and handed over) in any bank. Such things usually do not depreciate over time, which is an important fact.
Another good option for a gift is a pre-arranged order for photo or video, followed by thematic album or video. It is possible to check with the parents in advance whether the survey will take place and to undertake its organization.
For baptism, the basic requirements for gifts are about the same as for other celebrations: if in doubt about the size of clothes, it is better to buy a larger one and do not forget to attach a receipt (or even better – purchase a gift certificate); instead of buying just some little thing, it's better to cooperate with someone from the guests to buy a larger gift, etc.
And what kind of gifts do you give for baptism?