Do you know what problem modern parents have? They do not know what to play with their child! Someone dumps him with toys, someone leaves in front of the TV. Meanwhile, the game – this is the most important part of children's life. This is his leading activity, in which he develops spiritually, intellectually, physically.
I also did not know at first what I could do with a small child together. And then I took up the issue closely. And now we have a whole list of games that can be constantly alternated.

Games for letting go of emotions
Yes, the game has many functions, not only developing. Including, the game is needed in order to give a release to the child. There are several options for this.
First, all the throwing games. Kick the ball with the child, roll the machine, leave the leaves on the street. You can even scatter all the toys! When Vera was very tired after a busy day (for example, after going to the doctors), I was completely mad with her! This is a good option for active kids.
Secondly, these are role-playing games. Play with your child, dolls, toys … And you can learn a lot of new things! In the game, the child will show you how he perceives the events around him. After the first week in kindergarten with the help of such games, I learned that there is one boy in the group who fights with everyone, and how Vera reacts to this.
There are plenty of options, of course. But I will talk about those that we love and that we often use.
First of all, these are all sorts of mosaics, mosaics (where you need to insert details into the already finished picture), cords … But the most important thing is not to leave the child alone with them. It is necessary to control, praise, suggest … And then success is guaranteed! Just have patience, do not do everything for the child!
Secondly, these are development books. That's what we love! What I like most is that there are tips for parents – how exactly to deal with the book. This is what arsenal we are doing now.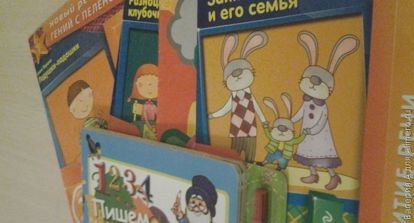 Well, we also tried to play with different cards: find a pair (such as a toothbrush, toothpaste, a spoon-spoon), connect mother and child (animals), combine food and animal. But I have no creative abilities, so I do not like to do them.
Games for physical development
Well, everything is simple. We play exercises) Even Vera has a lot of fun when I do exercises. Especially when I use it as a projectile.) And also physical development is greatly helped by games on the playground. Everything is just made for it!
That's all. The most important thing is to find time for all this. And play with sincere interest! And then you and your child will get pleasure.