The appearance of the first tooth is always a holiday for the parents of the baby, a day that all moms and dads look forward to. Someone is having a party, someone is buying a silver spoon, and someone is writing about it on social networks. For me, it was just an unexpected surprise.
Of course, I heard different stories: both about babies born already toothy, and about one-year-old children, just waiting for the cherished white stripes on the gum. But it is rather a rarity, most often in children, teeth erupt at the age of 5-7 months.
It is believed that the age when the child will have the first tooth, usually coincides with the one in which it happened at his parents. Since at four months I already had a full-fledged lower incisor, I waited for the appearance of teeth in my son from the age of four months.
Therefore, all nightly vagaries are very long written off on the cutting teeth. However, they did not appear for so long that I simply waved my hand and began to look for another reason for a bad night's sleep. The search led us first to the wrong diapers, then to the wrong mattress, then to vitamin D, which should not be given in the afternoon.
And after all this, when my son was six months and five days old, I found a spy in his mouth. We slept quietly for almost a week. Then the whims returned, and a week later I found the second lower incisor in my mouth.
And so, recently it seemed to me that there was an unpleasant smell from the mouth of my child. Unclean teeth. Then I thought about buying a brush, but I found this wonderful thing in the store: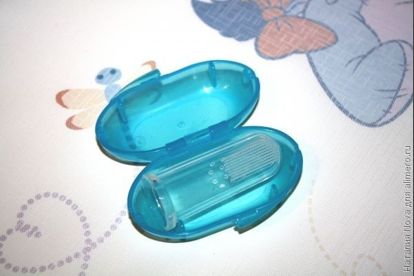 This brush is worn on the finger, and it is very convenient to use. By the way, it is recommended to use it to clean the oral cavity from birth.
Now I understand better the problems of my child and notice signs that indicate that he is worried about toothache. First, salivation, which can also cause some swelling of the face. Secondly – swollen gums, which all the time you need to scratch about something, for best, of course, fit mother's finger. If the finger is a pity, you need to give something rubber or silicone that you can pull in your mouth.
Today, pharmacies have a very large selection of products designed to smear swollen gums of infants. They do not save us, because they do not linger in the mouth, and immediately swallowed. So, only Nurofen's nursery provides relief, but it can be given only in case of severe pain, when the child cannot fall asleep in the evening. Often the use of such funds can harm the liver or kidneys.
How do you help your babies when their teeth are cut?