Until the year we shaved our daughters, their hair began to grow more evenly and evenly. When the eldest daughter was about two years old, we decided that it was necessary to trim her hair, to make a neat haircut. And if we always cut the bang ourselves, we decided to entrust the child to completely cut the child to a professional.

First experience
Of course, the girl can not be cut, and unruly curls just clean with gum and hairpins. But the problem is that our daughters absolutely do not like all these decorations. The eldest daughter allows herself to comb, to do her tails, but immediately after looking in the mirror, she removes everything.
I did not dare to take my crumb to the hairdresser, I thought that by calling the master to the house, we could easily cut it. How wrong I was!
Seeing an unfamiliar aunt with scissors, my daughter flatly refused to let her close. I had to show by my own example that there was nothing terrible about a haircut.
The hairdresser cut me, then I took my daughter in my arms and so tried to cut it. But nothing came of this idea. As a result, I was able to persuade the child to sit quietly for a bit, and managed to trim their hair a little.


Choosing a hairdresser
After a bad experience, after half a year I decided to try to go to the salon with my daughter. Unfortunately, there is no children's hairdresser in our city. I went around all the hairdressers that are close to home. It turned out a lot of them.
I chose a large lounge with a TV and sofas, so that before cutting my daughter could get a little familiar in an unfamiliar room.
Then I found out from the administrator whether there are any hairdressers who have experience in cutting small children. It turned out to be a young girl, to whom children are often led. To her, we signed up.

In the hairdresser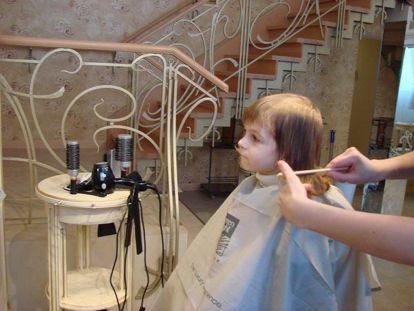 So the day came when we went to get a haircut. They came in advance so that the daughter could look around and see how they cut the others.
She was interested in the hairdresser's, she enjoyed watching the masters work. At that time, I explained to her that she would also need to sit in a chair and not be afraid of anything. She told what she would do and then she would become a beautiful little princess.
When my daughter was put in a chair, she was no longer so afraid. The hairdresser was actually an experienced master, talking to the child all the time. I also tried to distract my daughter.
Since the haircut did not take much time, we finished it pretty quickly. The only problem arose with bangs, after all, it is not easy enough to cut the hair near the face.
My daughter and I left in a good mood and with a great haircut. Now she is not afraid of hairdressers and, if necessary, goes to the salon with pleasure.
Do you take children to the hairdresser?