At present, it is recommended to introduce supplemental food not earlier than 6 months, except for babies who are on artificial feeding. They are allowed to acquaint with adult food as early as 5 months.
However, there are also opinions according to which such children should be given complementary feed a little later, since their gastrointestinal tract matures later.
You need to start feeding with vegetables or porridge. The choice depends on the weight of the baby. So, if the child does not gain weight, then you need to enter porridge first, but if his body weight is too high, then it is better to start with vegetables.
The main thing is to follow a few rules:
1. To enter the product you need with 1 tsp. Then every day the dose must be increased by 2 times, until you reach the norm. The rate is usually the age of the baby, multiplied by 10 g. So, if the feed began to be administered at 6 months, then the rate per day is 60 g.
2. Start feeding with 1 product, which must be given at least 1 week. If no side effects are found, you can enter the next product. Side effects may be in the form of allergic reactions or digestive disorders (constipation, diarrhea).
3. Acquaintance with each category of products is not less than a month. For example: at 6 months – vegetables, at 7 months – cereals, at 8 months – fruits, at 9 months – meat.
For the first feeding, hypoallergenic products are selected. If we talk about vegetables, it is: zucchini, potatoes, cabbage. From porridges it is recommended to give corn, rice and buckwheat. Moreover, the choice depends on the condition of the baby's digestive tract. So, if a child suffers from constipation, then rice porridge should not be given. If on the contrary, his stool is too thin, then rice porridge in this case will be the ideal solution.
By the way, the previously advertised semolina is now a prohibited product. According to experts, it contains substances that can remain in the intestines of man for life. Fruits need to choose green or yellow: apples, pears, plums. Red fruits can cause allergies.
Acquaintance with meat should begin with low-fat varieties: rabbit, turkey, veal. Dairy products are introduced closer to the year. Whole milk is not recommended to give up to 1.5 years.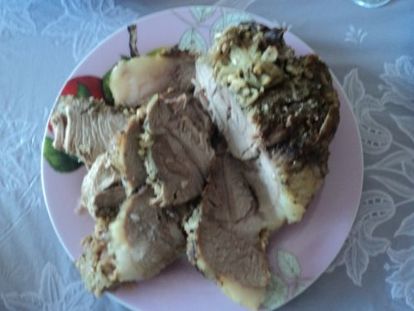 However, the most important rule is not to introduce the first complementary foods, strictly adhering to the rules. Always need to focus only on your baby. If he does not want to eat this or that product, you need to postpone it and try to give it in 1-2 weeks. Or the child does not eat more than 1 tsp. You need to rejoice and such a result. It is important that the baby gradually gets acquainted with the food adopted in your family, and with time he will definitely have an appetite.