Newborns often scream. They do not know how to speak, so they try to grunt, whine, shout to explain what is bad for them. Moms quickly begin to understand what exactly their little ones need.
I was lucky with my daughter – she almost did not cry. After hearing the creepy stories of girlfriends that I would not get enough sleep, that the child would scream round the clock and stay awake at night, I was just happy – I didn't have anything like that.
And she was one month old, and the next day began … In the morning she woke up and began to cry, then sob and scream. Reassure was very difficult. This went on all day, then she fell asleep and slept all night. The same day the same. I called doctors and girlfriends, searched in books and on the Internet for reasons of crying.
Why is a newborn crying?


Almost all resources wrote the same thing:
1. The very first thing – the child wants to eat. It is necessary to try to apply more often to the breast, to see if there is enough milk.
2. Wet diapers or overflowing diapers. They irritate the delicate skin of the baby, cause discomfort.
3. Overheating or overcooling. In the first case, the child needs to be stripped and wiped with a wet towel, in the second – it should be warmed to cover.
4. Otitis. Lightly press on the ear. If a child cries out sharply, then he is sick.
5. Colic. Occur due to swallowed air or maternal nutrition.
6. A headache. Most likely because increased intracranial pressure.
7. The child is just tired.
I tried everything: I changed diapers, stripped, dressed warmer, tried to feed, gave me medicines for colic, checked ears, wore various postures on my hands … medication, headache, hot, jinxed …
Desperate, I called my sister in Germany. Almost week shouts …, – I complained wearily. Sleepy, with circles under the eyes, in a dirty apartment … So this is a 5-week crisis, – the sister calmly replied. What. . For some reason I did not find this in Russian-language literature, but my sister had a book called Oje, ich wachse, where pediatrists painted everything in detail.
The first crisis of the newborn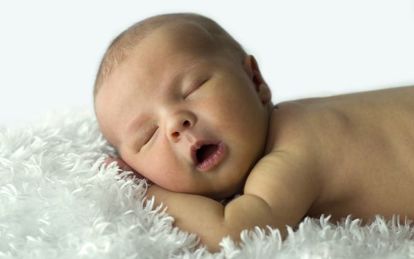 So. The first crisis, as my sister explained to me, occurs at 4, usually 5 weeks. Why does it occur? At this time, the child very quickly begins to develop all the senses and perceptions, the metabolism is changing, and the changes affect the internal organs.
This is called a leap in development. The newborn, to put it mildly, is experiencing stress. He is very scared, he does not like it. At this time, he needs a mother, her warmth, her hands. Left alone, he is likely to cry. He cries almost constantly, crying turns into a scream or a whimper, and so on in a circle.
In such a period, young mothers start to feel insecure, they think that it is their fault, they do something wrong, or even worse – the child fell ill, even if everything was fine before that. Mom is nervous – it affects the child's behavior even more.
How to calm the newborn?
1. To start calm down the most. Accept that you are not to blame, that this is the case with almost everyone.
2. Transfer all (absolutely all.) Housework to relatives, even if you had time to do everything yourself before. Ask friends and relatives to come help with food and cleaning. Be constantly with the child.
3. Do not be afraid that carrying a child all the time at this time, you will teach him hands. Not. The baby now just needs your warmth, your love and caress. Talk, sing lullabies, smooth on the back, tummy. Let him sleep in your arms. I was helped by wearing a tummy down on my hands (handles and head on my forearm, my palm is warming my tummy, supporting my legs with my other hand) and a warm bath.
4. And be patient. The crisis lasts from 2 to 7 days.
After 6 days, the first crisis we have ended. The baby woke up in the morning and smiled at me consciously for the first time.