Finger games, necessary for the early development of babies, I played with my children from birth.
What are finger games for?

It was not an accident. I am a pianist in the past, and the words of the piano teacher are forever imprinted in my memory: With what speed you play, with such speed you think. If you play and stumble, then your thought does not flow freely, but stutters.
From what was said to me, even then it became clear that our fingers, fingertips, are directly related to thought, mental development. And accordingly, when I became a mother, the question of how to develop the handles of children in all sorts of ways was decided.
The concept of finger games

In the pedagogy of preschool education, finger games imply reading rhymes with a finger staging.
For example, the geese flew in, sat down, ate, drank, flew again. Mom and child utter the text, waving their arms with their wings in parallel, their palms land on their knees, the fingers pinch the grass, twist the tube at the mouth – drink some water, their wings flap (fly away).
This is an example of a classic finger game with text, but my daughter and I started playing such games no earlier than 9 months. At the same time, the text spoke, controlled the hands of a daughter, helped me make movements, of course, I did.
But our lessons on finger games started much earlier.
Finger games from 0 to 6 months

Classes are very simple, so I played with my daughter's palms when I changed clothes, fed, and, which was especially convenient when I wore kangaroos.
Principle: it is necessary to bend, bend, massage, rub, tap, squeeze fingers in various ways, paying special attention to the tips of the fingers.
The pleasure of the baby delivered a light biting tips and sucking. I agree that the description of the process dressed in words does not sound very nice, but I think that all the mothers understand what I am writing about.
By working directly with the tips of your fingers, you can take each finger in turn, rest on its tip with your own, bend it down slightly (open palm looks up), spring back and release. My daughter liked it very much. So, we circle all the fingers in a circle, doing the exercise several times.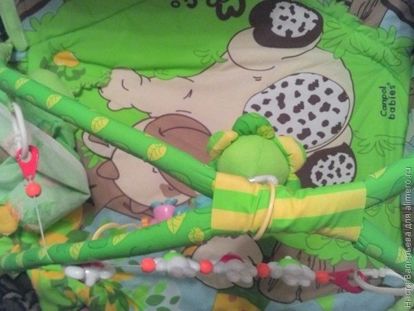 Games with items

The second integral part of finger development is to make the child independently bend, unbend, compress the cams and pull the fingers. Here are great toys help.
My daughter is lying on her back, I touch the back of my palm with a feather (feather). Her actions are quite natural, she unfolds her palm, taps her fingers to grab the fluff. So, playing, make the fingers work.
Or, for example, it is useful to roll a heavy ball on a palm. This gives new tactile sensations and again, makes the fingers unfold and fold.
In fact, any exercise for the palms and fingers of babies – this is finger games. But sometimes it was difficult to force myself to play purposefully with the baby.
I just identified the direction of finger games, but each mother can come up with dozens of convenient options.
What finger games for babies have you played?