When my child was born, I immediately decided that I would learn how to massage him myself. Therefore, I can now share my experience with others. Classic massage consists of four basic techniques: stroking, rubbing, kneading and vibration.
rules



Together with the method of massage, I memorized the indisputable truth. Children should be massaged the same way as adults, but more gently, because babies have delicate skin, and they have a slight excitability.
An important condition: during the massage, the child should not experience pain.
I began to massage my baby when I was very young, and from the very beginning I combined his exercise and exercise. Before starting classes, I aired the room, making sure that the temperature in the room was 20 degrees or a little higher. At the end of the massage, I put warm linen on the baby and gave him the opportunity to relax.
For the massage, I chose the time between feedings, so that before and after the next meal, the baby had at least an hour and a half.
Massage before bedtime, I never spend, so as not to excite the child.
Massage duration



I started the first classes from five minutes, then I brought up to eight, and for about half a year I did a massage at the same time for twenty minutes. It all depends on how old the child is and on which parts of the body the procedures are performed. If the massage is medical, then it is better to invite a specialist who is well acquainted with the physiology of children. The course of therapeutic massage usually consists of ten to fifteen procedures.
Children with certain complex diseases (scoliosis, kyphosis, flaccid paresis, cerebral palsy) are prescribed a number of procedures individually, up to 25 times per course.
If you need a second course, you need to take a break of at least two weeks.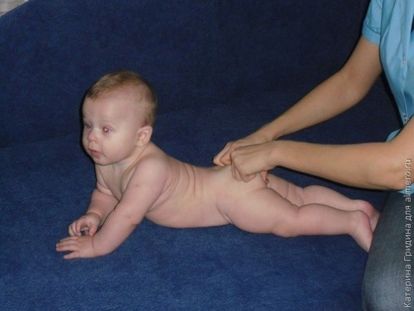 When my child was one year old, I gave him a general massage every other day, the duration, including physical exercises, was about half an hour. It is important to remember that when baby massage can not use ointments and creams.
My baby has oily skin, so I used talcum during the massage, and if the children have dry skin, they smear my hands with oil or glycerin during the massage.
In order for the massage to give the maximum effect, it is necessary to achieve relaxation of the muscles of the baby. The intensity of training should be increased very carefully and gradually. And in general, you should massage your own child yourself if you are confident in your knowledge and possess the necessary skills.