Before the birth of my daughter, I severely and strictly punished my husband (since she herself was already in hospital at that time) to hide all my soft toys, of which there were a great many, in bags, and bags in the closet. But one single bear asked to wash and leave. What for? ABOUT! I had global plans for him!
The teddy bear was chosen taking into account the heap of parameters – so that it was easy to erase, so that if desired, the daughter could take it in her hand and later embrace it. Well, so that while she is small, she could not suffocate, having accidentally buried herself in him. And the lack of a pile, of course, meant a lot.
Immediately after the birth of my daughter, I put him in her crib so that she gradually got used to it. So it took about two months, I occasionally specifically showed the bear to my daughter, playing with him, letting her touch. In the end, the daughter got used to his presence. By that time, we already had two problems. The first of them – the daughter began to pinch me by the second breast while nursing. It bothered me a lot, so I began to give her a bear in her pen so that she would blaspheme him, not my breast.
The second problem was much more serious – my daughter was used to sleeping with me while she had colic, and she never wanted to move back to her bed. Therefore, I systematically began to teach her to fall asleep in an embrace with this teddy bear. I admit, the daughter settled out only a year later, but yes, the bear played a big role in this – now she always falls asleep with him in his arms.
When my daughter got her teeth in three months, the bear again became a salvation. He terry and perfectly scratched his gums, because my daughter did not take special rubber scabs. But the bear with a bang sucked! Of course, it was necessary to wash it very often then.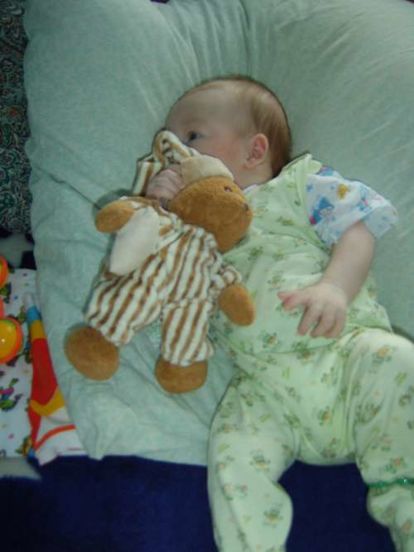 Our bear helped us and in weaning – the daughter complained to him that her mom was sick, hugged him when she was sad, got used to sleep with him without a breast – the daughter rocked the bear, and I – her. With the help of the bear, the daughter also mastered the pot, or rather, stopped being afraid of him when the bear sat on the pot. Further development was easier when there was no fear.
And now, when her daughter is almost 2 years old, in which case, the first thing she does is run to hug her beloved bear. Even in the corner they stand together. Here is her friend.