I had to raise children at different times. When the daughter was born, the early introduction of new types of food was practiced. The son was born when medicine came to the conclusion that, in addition to breast milk, in the first months of life, the baby does not need anything.
The first lure (horror!) – per month. One must give a drop of carrot juice. Now I think: why? What is such a super useful for baby in it? Vitamins? They are enough in breast milk. Iron? He, too, enough for a month-old baby, if he is breastfed. But the risk of allergies is high.
Somewhere up to 9 months, I struggled with my daughter's diathesis, having tried all the medications and folk remedies from viburnum berries to eggshell. Fortunately, everything gradually passed with us.
After the juice, we were recommended to give the child a grated apple. Now I understand that it is better to at least a baked apple puree. After all, this fruit is also quite difficult to digest. The child still has an intestine that only learns to work, which is what the evening colic says, and we have a raw apple for it.
Of course, I don't remember the exact timing of the feeding, but the diary notes say that at 11 months my daughter was already nibbling cucumbers from the garden, and a year we transferred her to the common table. She ate well, and the problem of never wanting a child was unknown to me.
True, in childhood the daughter could not boast of a strong gastrointestinal tract. Maybe the reason is that I regularly listened to the doctors and introduced all the lures according to the plan?
Everything was different with my son. I was not in a hurry to transfer him to the common table, but on the contrary, I transferred the whole family to diet food.
It is so interesting to listen to the very same doctors who once recommended starting feeding in 4 weeks, now admonishing that it is not necessary to feed the child up to half a year. Well, times change, science does not stand still. Moreover, it is more understandable to me than vegetable juice per month.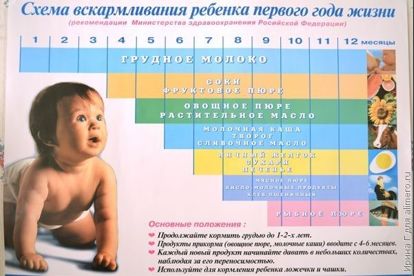 Until six months, I did not feed my son with anything. She offered only water, which he always refused. In due time they were tested – everything was normal and there was no diathesis.
Started lure at 6 months. At first, my son liked everything: porridge from boxes, vegetable puree, soup. Then we rejected the boxed porridge. I had to cook from ordinary cereal and beat it with a blender. The son also did not like fruit for some reason, and when it came time to try the curd, his son did not want at all.
As a result, he began to eat cottage cheese only recently, at 2 years old. And that, time for once is not necessary. Up to one and a half years, he didn't chew well and now he doesn't eat very well. He seems to be eating everything, but little by little. Perhaps the fault is that he is not yet weaned, but I also breastfed my daughter for 13 months. Nevertheless, it was a pleasure to feed her with ordinary food.
Although, I will not speak in vain: my son mastered the spoon / fork and cup by his two years. So in the garden will not go hungry.
The early feeding may have its advantages, but I am still against it. It turns out that the mom's fate is simply made easier: early feeding leads up the early schooling of the child to ordinary adult food, and, therefore, the mother no longer has to cook separately. Only cons in the form of diathesis and stomach problems in the future significantly alter the advantages. In my opinion, everything is simple: as long as the child has no teeth, there is nothing to shove solid food into him.
In general, it is also convenient to lure after 6 months: six months, no bottles, jars, plates and spoons. Only chest! She is always with her and is full of healthy, fresh and sterile baby product.
Time will tell whether modern doctors are right. But personally, my opinion is that there is no need to hurry in this matter.