Early development in our time is very popular. There are many techniques of various authors on this topic. When I was pregnant, I thought that I had to start with my daughter to engage in any method from birth.
How did it actually happen?
In the first couple of months, it didn't even occur to us to deal additionally with something other than feeding, sleeping, wearing a pole and fighting colic at night.
Then there was a period when she began to develop well physically and did not particularly like being in one place. She had to go with her, she looked and touched her little hands.
And then I thought that let the child have a childhood childhood. Will have to learn many more years. I will not say that I was completely inactive – inadvertently engaged in exercises for the development of fine motor skills, but my daughter didn't particularly like them.
Closer to the year, she was very fond of learning the letters in the application on the phone and performing simple tasks, such as pushing the ball into the hole, moving the figure to the right place, and burst the balls.
I know that it's better for kids not to give a phone and not to show cartoons at all, but if everything is in moderation, nothing terrible will happen. But the kid has a lot of joy and knowledge of something new.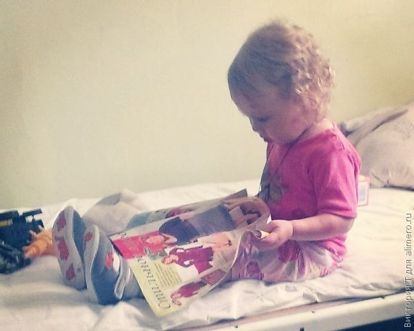 Time flew by and for this period we have not used any method of early development. The daughter now goes to the kindergarten and there, and also at will and at home, sculpts from plasticine, draws with paints. We also do crafts with it, sticking applications into the album. And I will not say that due to the lack of classes in early development, it lags behind peers.
She began to speak quite early – she already had enough vocabulary for this age in a year. Soon began to build simple sentences.
Now, at two years and ten months, she speaks well. Of course, not very clean, but everyone understands. She also tells fairy tales, rhymes, sometimes sings, can count to 10. She has all the necessary skills that a child of three years should have.
So do we need these methods of early development?
I don't see any incredible results from acquaintances who have been involved in them since early childhood. They have exactly the same children who are not much different from my daughter.
Yes, the difference will be visible if you plant their child and my daughter and let them do some kind of exercise. In this case, the child who was engaged earlier, will start to carry it out faster, and the one who does it for the first time will step in a bit.
Perhaps the result will be noticeable in the future, but this is also not guaranteed, because each person is individual and the abilities manifest themselves at different ages.
Have you been involved in early development and what results do you notice?