I am very attentive to what my child eats. But no less important is the question of what and how much he drinks. In the tissues of a child, water makes up about 70 percent of the entire body mass. It is thanks to the liquid that various minerals and vitamins enter the body.
Recently, I read the norms of water that a child should drink at an early age and realized that my son drinks so much liquid only in summer.
In 1-1.5 years, children should drink 300-400 ml of fluid per day, and in 2-3 years – 600-800 ml. It can be not only water, but also milk, tea, juices, compotes, etc.
We began to drink water in the maternity hospital, the summer was very hot, in the ward it was 35 degrees. Then, when the baby was only breastfed, we did without it, and with the introduction of complementary foods began to give water again. He drank it very unwillingly. At 11 months, we ended up in the hospital with poisoning, and we had to put the dropper to our son just because he did not drink water at all.
Only now we are happy to get up in the morning and drink a glass of water before breakfast. But all the same, judging by the norms above, we do not drink such amount of liquid at all.
Up to a year they used children's water Malyatko. We drank it and prepared to eat only on it. Then they began to order water in one company. We checked this water in the sanstantion, said that it was completely purified, but, unfortunately, not only from harmful, but also from beneficial properties. Now we continue to prepare to eat only on it, because we have not found a better alternative. In the garden they probably cook on ordinary tap water.
We drank this tea from 6 months to 2 years. Son liked this tea. We took Humano or Hipp. When they refused to breast, they replaced the night feeding with tea, it was very convenient and fast. But in two years we went to visit Kiev, and he simply refused it.
Tea black and green
Now, many mothers give baby black tea, ranging from 8-10 months. But I heard a lot of negative reviews about him. Tea contains tannins and caffeine, which excite and then inhibit the baby's nervous system. For the first time, the son tried tea after 1.5 years, but without sugar. Now we often drink tea in the kindergarten, but, as a rule, it is diluted with milk there and sugar is added.
Coffee is strictly prohibited to children of preschool age. They can offer cocoa or coffee drink. Cocoa contains substances that adversely affect gastric secretion, so if children have problems with the gastrointestinal tract, then you should give up this drink.
My son first tried these drinks in the garden; they are given there every day. I will not say that he likes them. The teacher constantly says that he refuses to drink them.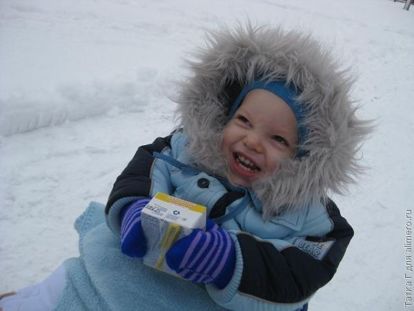 For the first time we tried the juice after a year. We had some problems with the gastrointestinal tract, so I did not see the point of introducing them before. Up to 2 years, I diluted all juices with boiled water 1: 1. I bought only those that included no sugar or water except juice.
Now we continue to drink juices intended for baby food, but not more than 200 ml per day. Fresh juice is strictly prohibited to children, it can only be given in diluted form, because it acts aggressively on the pancreas and intestinal walls.
Compotes and decoctions of dried fruit
These were and are the most favorite drinks for the son. He can drink a lot of them. We started to drink compote without sugar and from one of some fruit, and then gradually added one component. On the day we drink about 0.5 liters of compote. Morse and kvass are not recommended for children under 3 years old.
When is it better to water the baby?
If the child is small and cannot yet say that he wants to drink, then it is best to drink in the intervals between meals or 15 minutes after eating. And the older child will ask to drink himself. If your baby refuses to eat, then you can offer sour juice before meals, which will lead to stimulation of the pancreas and increase appetite.
Remember that your child's body should have enough fluid for all organs to function normally.