My son, who is a year and eight, loves to draw. I will not say very much, but almost every day something adds to the album or improves the previously drawn drawings. The album, pencils and felt-tip pens are in his free access. Naturally, now he is still just scribbling, and often the continuation of the album is his desk, window sill, wall. But when we get paint, we also try to play.
What is required?
At this age, the child is easier to draw using the butting method. For this, I made a kind of brush from an old ballpoint pen and a piece of foam rubber. Gouache (a small amount) spread in a small saucer. So more economical and cleaner.
What can a child draw at that age and in this way? All round and small, here it is necessary for mum to include imagination. If you do this in the form of a game, the child will be very interesting.
Drawing grains
The pips are our first drawing. Drawn in a group of early development. Before that, we were shown the Ryaba Chick. Then the children played with the chickens and fed them with freshly drawn grains. We took the drawing for memory and played at home. I made a simple poem for the drawing:
In yellow feathers chickens,
Like little guys!
Peck grains, type-type,
We paint: rash, rash
Drawing snowball
Before the New Year, of course, we waited for Santa Claus. They looked at him in the pictures, saw him at the children's party and … prepared a gift for him. Draw a picture. And in the picture – a snowball. This is more complicated. I had to work in three colors – white, blue and blue. True, they drew in several stages.
Figure signed a poem:
Santa Claus is coming –
All gifts carries!
I'll give it to him –
Blue and white winter!
Drawing berries


Rowan grows under our windows. My son and I often watch a variety of birds flying in to pick berries. Dad hung a feeder by the window and we feed the birds in the winter. Now, at our window, a noisy feast often unfolds, for which my son watches and listens with interest.
Today I offered to draw him berries for the birds. I painted a blank – a branch (I am not an artist, so do not judge strictly). And the berries – the creation of my young artist. After the drawing dried out, a bird flew to us and tasted the berries.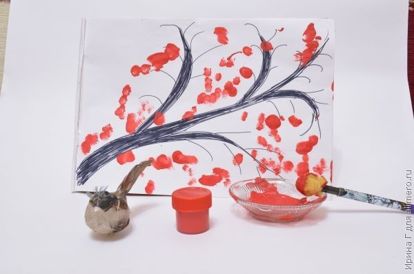 Of course, the rhyme has not done:
Berries on a branch,
like beads!
Birds fly to us
tiny ones.
Birds berries pecked,
We still painted!
Tomorrow we'll definitely play again!