Finally, a little man, a piece of you yourself, was born.
While the baby is with you in the maternity hospital, he does not particularly need anything, but upon arrival home he will already have a lot to become necessary.
Take care of where the baby will sleep. For a start, a cradle or basket is perfect, where the baby will not experience discomfort due to its small size. If the bed is purchased for growth, then the model should be with rods (the baby's handles should not be stuck between them, but too wide gaps are also undesirable).
It's great if you can adjust the height of the bed itself – while the baby is still small, it can be raised higher, but when the child learns to stand, it will be better to lower it, otherwise the shustrik can roll over the crossbar and fall to the floor.
Mattress in the crib you need to buy a hard, down feather beds and soft mattresses are harmful to the still unformed spine.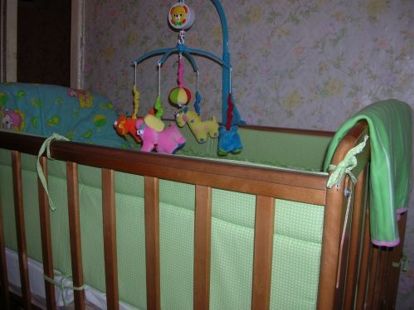 The stroller for the baby can be absolutely anyone. It all depends on the wishes and capabilities of the parent wallet. It would be nice if the model will have a special waterproof cape for bad weather and a bag for carrying children's things in the set.
The very first purchases for the baby will be: a blanket blanket, a pair of bedding sets, a large bath towel with a hood, a baby bath (in case you do not plan to bathe baby in an adult bath), a water thermometer. To keep all surfaces in the house dry, you will need two or three large oilcloths.
If possible, you can buy absorbent diapers, they are sold in several pieces per pack. Even if you are not going to swaddle your baby, it is worth buying several diapers, say, 8-10 pieces. They are convenient to cover the baby during sleep, soak the body after bathing and place a pillow under the head instead of a pillow. If you swaddle, then the diaper will need 15-20 – warm flannel and light cotton.
From the clothes for the first time you need: 2-3 thin caps, 4-5 shirts, 6-7 sliders or overalls, 2 pairs of socks. If the child is autumn or winter, then you also need 1-2 warm hats, 2 woolen suits – blouse and pants, 2 pairs of woolen socks, a fur envelope or a warm jumpsuit.
All things before the first sock must be carefully washed and ironed with a hot iron on both sides. From hygiene items you can buy sterile cotton wool, cotton swabs, baby soap, cream or oil, potassium permanganate, hydrogen peroxide, Zelenka, gauze napkins and disposable diapers.
If for some reason mom decided not to breastfeed, then you need to buy 2-3 bottles, several replaceable nipples and a brush for washing bottles. For loving grandmothers, grandfathers, aunts, uncles, and other relatives, it often becomes painful to ask the question – what to give to a newly-made mother and baby? Indeed, it is difficult to come up with a useful gift when the young family already has everything they need.
Here are some original presentation ideas. Children's portable chaise lounge – you can take with you to the kitchen, to the bathroom, to the terrace. To even during household chores not to part with the baby. A very useful gift will be a large inflatable ball for charging. He will serve a good service and mother, who wants to quickly get in shape after childbirth.
The first family photo album, where, in addition to photos, you can glue on various useful items and record your baby's achievements. A backpack – a kangaroo – is indispensable for close communication between mother and child, especially if the young parent is active and does not want to part with her beloved baby, even if only for a short while. In any case, a gift is always a joy.
And the young parents have already received their best and most expensive present – their beloved baby.