Does a small child need a pillow? Many mothers ask this question. And if for babies up to a year, doctors and mothers almost unanimously believe that the pillow is not needed, then after a year the opinions of specialists are divided here. Our tribulations with a pillow began after a year and are not over yet.
Sometimes during the night I change a few pillows to my son. He sleeps often restlessly. If it lies on a pillow, it may roll off, and then it seems to me that he does not need a pillow. If I put him to sleep without a pillow, he tries to attach his head somewhere higher. On sinteponovoy he sweats, you have to change it too.
What to use instead of a pillow


Until my son was one year old, I, like many mothers, used a folded diaper instead of a pillow. I know that there are special inclined pillows that serve to raise the head of the child. But we, for example, just lifted one edge of the mattress. True, in this case, the child had to be put only in one side of the bed. I did not buy an orthopedic pillow. I think that it is needed only if there are any problems.
How to choose a pillow for a two year old child


I used the Internet on this topic and found out for myself the following: the thickness of the pillow should be equal to the width of the shoulder, so for a two-year-old child this size is about 8 centimeters. It is clear that if a child likes to sleep on his stomach, then the pillow should be thin and rather dense.
While we were determining what kind of pillow our son needed, I tried a lot: a thin padding cushion, a folded fleece blanket shaped like a pillow (put a pillow on it), a thin feather pillow (it sweats less from it), a pad filled with bamboo fiber.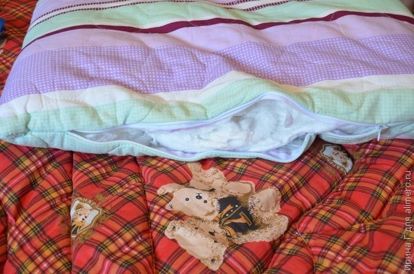 The latter is convenient because it is zipped, and you can take out part of the filler to make it thinner. He sweats on it the same way as on the sinteponovoy, you have to put three pillowcases on her at once.
She wanted to buy a sheep wool pillow for him, but doctors advise not to use any natural fillers because of the danger of allergies.
A feather pillow, of course, can also provoke an allergy, but since we still have not gotten rid of them, I decided to try it. For the time being, she's the best for us, despite the disfavor of the doctors. I bought a new, rectangular. It is quite dense, you can give it the desired shape and it breathes well. But I don't want to advise, this is everyone's business, and everyone's allergy is their own))
findings


Many children sleep well without a pillow for up to three to five years. Apparently, this is a matter of habit. But if your two-year-old child needs a pillow, be guided by the following parameters:
one. The form – rectangular
2 The size – 70 by 40 centimeters (for the crib)
3 Thickness – 8-10 centimeters
four. Fillers – synthetic winterizer, bamboo, halofiber, buckwheat husk, latex, polyester.