I became a mother very early. I was only 17 years old when I learned about pregnancy. Despite the fact that I was supported by the father of a child who acted like a real man, I could not even imagine how to care for a small baby.
My parents abandoned me on the very day they found out about my pregnancy. On the same day I moved to live with my boyfriend. There she met the support of her mother-in-law. However, my husband's mother spent almost all days at work, so there was no one to ask about basic things.
Hello, sleepless nights
Baby was born in time. But, as the midwife in the hospital said, the boys are always more naughty. Even in the ward, I realized that everything is not as simple as it seemed to me. I thought pregnancy was the hardest thing. I wanted to give birth as soon as possible. Yeah, gave birth and realized that the most difficult thing is to take care of the child.
Son naughty very often. At nights, he could wake up and cry every hour. I didn't get enough sleep. I went on the machine. A month later, I lost the milk, I had to transfer the baby to the mixture. And then a new round of problems began.
Mixes are hard to pick up. We had colic, gaziki, or the baby didn't want to eat the mixture at all and spit it out. From 5 months I began to give complementary foods, and again I had to pick up what my son would like.
The baby has teeth, I have a neurosis
At 4 months my first teeth began to be cut from my child. Imagine, the temperature is under 40, the baby is crying, I'm in a confusion calling an ambulance. A doctor comes, a woman of middle age, examines the child and gives me a verdict: What did you want – you have teeth! And in general, there is nothing so early to give birth, if you do not understand such issues. She said and left.
I didn't sleep for almost 3 days until this first tooth was cut. I almost earned a neurosis. My husband took 2 days at work at his own expense and sent me to sleep. If not for him, then I do not know how to cope.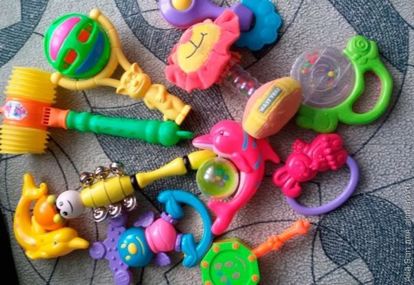 Vaccinations are a sore subject for us.
Oh, those vaccinations! Since the very first vaccination, the son tolerated them very poorly. Until one year old, the very first reaction to the vaccination was high temperature, which lasted up to 3 days. And he was so crying!
Once he screamed for a very long time, I couldn't calm him at all and my son broke his voice. Instead of crying, a wheeze burst out, of which he himself was frightened and stopped walking even more. On that day, a neighbor came to us from below, to check if everything was normal with us. I thought I could not bear it for long.
Enough time has already passed, but I remember everything as if it were yesterday. It was very difficult for me in the first year of our baby's life. But I am glad that I have it. This is my treasure!
And what difficulties did you encounter in the first year of your children?