Many mothers face irritation on the baby's skin. From the definition of diaper dermatitis, it is clear that this is a skin reaction to diapers. However, now this concept has expanded somewhat, and now it includes not only diapers, but also diapers (disposable and reusable).
Diaper dermatitis is commonly referred to as skin irritation caused by baby stool.
With the observance of elementary hygienic rules, such skin reactions in babies are quite rare. No matter how comfortable disposable diapers, but you should not wait until the filler swells to the limits.
Several times I observed that some children walk on our embankment in one diaper (sometimes the image is complemented by a T-shirt). And it always surprises me why his parents do not change him, because he is so full and heavy that he hangs almost to his knees.
Whatever advertising and manufacturers promise, but the inner surface of the diaper all the same becomes wet over time. This can cause dermatitis.
Whenever I change my diaper, I wipe my daughter with a wet cloth or wash it. Also, it will not be superfluous to leave the baby naked for a while.
It is also important not to neglect water procedures due to the fact that the feces can cause an inflammatory process and inflammation on the skin and mucous membranes of the child.
Once the daughter in the genital area appeared redness and rash. After analyzing the past events, I decided that the reason may be a change in the brand of diapers. So it turned out, whether the party was defective, or they simply did not fit their daughter, but when they returned to their usual brand, the irritation disappeared.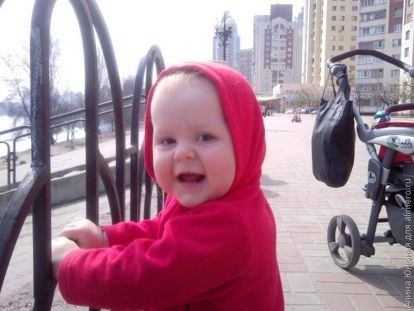 Another case occurred when my baby was about 4 months old. Again, reddening and even something like a dry rash appeared. Changing diapers and napkins did not lead to anything, on the recommendation of the pediatrician, I used a special ointment for diaper dermatitis — Desitin (I still remember its smell!) And a cream with similar effect from Sanosan. The result, alas, was not.
In the direction of the pediatrician, we turned to a dermatologist, who said that this could be either a dermatitis or a fungal infection, and he referred us to a gynecologist. The gynecologist prescribed antifungal ointment and the skin became clean after a day or two.
In addition to the rules of hygiene, it is important to ensure that the skin of the child was provided with normal air circulation. Therefore, it is important to minimize the contact of the child with the clothes, it is better that it is free, and not tight-fitting (for example, not tights, but pants).
It is also important to give preference to natural fabrics, to avoid artificial materials of suspicious origin. After all, even poor-quality dye can cause a skin reaction.
And if the child describes the clothes, contact with a wet cloth will only aggravate the situation.
The choice of funds marked From diaper dermatitis is huge. However, it should be remembered that these drugs usually create a film on the skin of the child, which prevents the ingress of an irritant (feces, for example). This, of course, is a good way, but there is a side effect – such a film makes skin breathing more difficult, which, by the way, is 8 times more active in children than in adults.
Sun, air and water are our best friends. You should not cover the skin of the child as much as possible, thereby not allowing her to breathe. Sometimes conventional air baths are more effective than the use of special creams and ointments.
Have you encountered diaper dermatitis in babies?