Allergies are called the wrong reaction of the immune system to various, at first glance, harmless substances. The initiator may be pollen, pets, food, and so on.
I have never had to deal with this problem before, but for some time I learned a lot. For example, sometimes an allergy can occur almost imperceptibly, and sometimes it can even threaten the life of a child.
Most often, the causes of allergy include hereditary predisposition. Also, do not forget about the consequences of modern environmental conditions, stress, chronic fatigue and other factors that trigger adrenaline rush and depress the immune system.
In my family, there are no obvious allergies, in spite of this, after the birth of my son, I paid special attention to his health, cautiously introduced him complementary foods, etc. … Before each new vaccination, I gave him Fenistil drops (3 days before vaccination and days after it). So advised pediatrician.
Everything was fine until Grandma treated his beloved grandson Barney Biscuit with Banana Filling. Small, red specks covered the baby's cheeks and some other parts of the body. Having donated blood for tests, the pediatrician said that he had an increased allergic background and told him to take Zyrtec. It helped.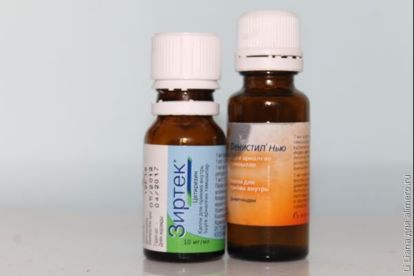 Now he will try other sweets not soon. Despite the fact that he has been eating for more than a year now and he has been eating almost everything, I don't think he needs sweet livers and chocolates. Better fruit sweets not.
How to avoid allergies
My mother's friend once complained, saying that her 8-month-old grandson had red cheeks suspiciously become. The doctor explained to them that this could be a manifestation of an allergy to any product eaten by the baby.
First of all, it was necessary to determine what causes such a reaction. On the advice of the doctor, the baby's mother began to keep a so-called food diary, in which she noted what and how much the child ate.
To avoid a strong allergic reaction, you need to enter the child in the supplement one product at a time, starting with one teaspoon per day, and monitor his behavior. Milk, eggs, honey, seafood, citrus fruits should be injected especially carefully.
Even in the clinic, we were informed that modern diagnostics of allergy includes: collection of allergy history, skin allergy tests, diagnosis of allergy by blood analysis.
Also, the diagnosis of allergies can be divided into 2 types: non-specific and specific. A nonspecific allergy determines which part of the child's immune system fails, and a specific one determines the guilty allergen.
Allergies are different
When my colleague's daughter began to develop an allergy, she collected the child and immediately ran to the hospital to determine the cause of the allergy. To begin with, they made skin testing for household, medicinal, pollen allergens.
Allergic skin tests were done during remission (and the child should be more than 4 years old). Also, the doctor warned that before setting skin tests it was impossible to use antiallergic drugs.
The girl revealed the so-called cross-allergy, that is, allergy was not only to pollen of birch and apple, but also to birch sap and apples.
Have you encountered allergies?